Alumni Success Story
Alumna Talks About the '08 Campaign Trail in Colorado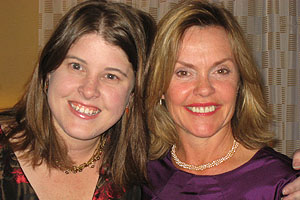 For Anne Caprara, SPA/BA '01, the campaign trail was a long and thrilling road that winded along the Front Range Mountains of eastern Colorado.  The Rocky Mountain state became home to Caprara, a Pennsylvania native, in October 2007, when she began managing the Congressional campaign of fellow AU alum Betsy Markey, SPA/MPA '83, in the hotly-contested race for the Colorado Fourth.
"2008 is not a year you sit out if you're involved in campaigns," says Caprara, who left her post as chief of staff to Representative Betty Sutton (D-OH) to manage Markey's campaign.  "I heard about the race in the Colorado Fourth," she says, recalling her decision to move west.  "So I visited, and I loved Fort Collins.  And Betsy went to AU for graduate school, so we hit it off talking about that."
The frenzied, nonstop pace of campaigning comes naturally to Caprara, who spent the 2004 and 2006 election cycles on campaigns across the country as part of Emily's List, an organization which supports pro-choice, Democratic women candidates.  "The days are pure pandemonium, but it's fun," she says.  "You have to like this kind of environment to work in it."
Caprara has always had a taste for political races.  During her sophomore year, she ran for president of Student Government.  She was later a member of the University Senate, served as the president of SPA, and was the Student Speaker at commencement.  She laughs recalling her sophomore year presidential run, admitting, "I still have the buttons from my campaign."
The Campaign Management Institute was also good practice for the real thing, says Caprara, who calls CMI "the best training program I've ever been on."  She has high praise for SPA Professors Candice Nelson and James Thurber, who lead CMI.
When the first session of the 111th Congress begins in January, Caprara will return to Washington as Markey's chief of staff.  Their victory in Colorado has led to the nation's capital, and with new work ahead of them, Caprara is reflective about campaign life.  Of campaigns, she says, "The thing I love and hate most are the same: you win or lose on one day."