Student Success Story
Calika Scholarship Helps Turkish Student Feel at Home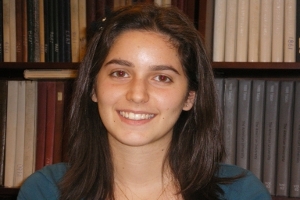 Throughout high school, Elif Merve Karauzum, CAS/BS '13, always knew that she wanted to study in the United States. A native of Istanbul, Turkey, her aspirations were made possible when her acceptance letter to American University arrived with the offer of the Hursit Calika Scholarship. Karauzum, a sophomore economics major, has wasted no time involving herself in her new American community while staying connected with her Turkish roots. She is president of AU's Turkish Club, has attended events at the Turkish embassy through involvement with the Assembly of Turkish American Associates, and volunteered for the annual Turkish Festival in downtown D.C.

For Karauzum, the Hursit Calika Scholarship is the fundamental reason that she has the opportunity to pursue her degree at AU. Her gratitude inspired her to take it upon herself to arrange a lunch meeting with the Calika family soon after she arrived on campus. She and the Calikas have since developed a close friendship, which Karauzum considers one of the highlights of her AU experience. "I see them as my second family. We explore the city, stay in touch via e-mail, and I visit their home. It's like my other home, and I'm very happy." Showing off a bracelet she wears, Karauzum says it was a gift from the Calikas.  
After AU, Karauzum hopes to return to Turkey and embark on a career in the banking industry. An internship in the International Business Development Division of Istanbul's Garanti Bank this past summer helped solidify her desired career path. The combination of her intense coursework at AU, professional experiences, and the support of the Calika family will undoubtedly give her an edge in the job market. "I would not be here if not for the Calika scholarship," she says. "They have changed my life."
The Hursit Calika Scholarship was established as an endowment in 2001 by O. Hursit Calika in honor of his two grandsons who attended AU, Murat M. Calika and Behcet K. Calika BS/CAS '97. The scholarship supports students, preferably from Turkey, who demonstrated academic achievement and who major in economics or business.