Capital Campaign Success Story
FedEx Exec Promotes Shipping
Industry in Capital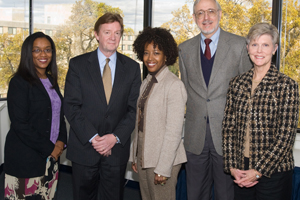 FedEx executive Gina Adams' BA/SPA '80, resume is impressive -- She's been a lobbyist, a federal liaison, and an information resource for Congress.
Adams joined the FedEx Corporation in 1992, and has since held a number of important positions -- managing attorney of the International Regulatory Affairs Office, staff director, and staff vice president for International Regulatory Affairs. In 2001 she was promoted to senior vice president for Government Affairs, and she is a two-time recipient of the FedEx Five Star Award, the highest employee achievement award at FedEx.
After completing degrees from AU, Howard University, and Georgetown Law Center, Adams began her career as a lawyer in the Attorney Honors Program at the U.S. Department of Transportation and spent nine years in the Office of the General Counsel. While at DOT, she was selected as a Department of Transportation Fellow and later served on the Advisory Committee for the DOT Fellows Program. She has since taught at GWU and served on the Governing Committee of the American Bar Association's Forum on Air and Space Law.
In May 1993, President Clinton appointed Adams to the bipartisan National Commission to Ensure a Strong Competitive Airline Industry. Her activity in the Capitol also included sitting on a number of boards: the Council for Excellence in Government, the American Red Cross, the Meridian International Center, the National Museum of Women in the Arts, the Beauvoir School (National Cathedral's Elementary School), the Washington Performing Arts Society, and the D.C. Chamber of Commerce.
Adams was awarded a lifetime achievement award from the National Women of Color and received honors from the Black Women's Agenda and the Jack and Jill Foundation, an organization dedicated to supporting education, literary and scientific projects benefiting minority children. She was also honored by Girls Inc., a 140-year old philanthropic organization, for her commitment to promoting education and opportunities for young women of all socio-economic backgrounds. Adams was most recently named by The Network Journal as one of its "25 Influential Black Women in Business" and was honored by The Minority Enterprise Executive Council as one of its 2008 "25 Powerful Minority Women in Business."
Adams, a generous supporter of AU, is married to Eugene A. Adams, an attorney, with whom she has a son, Spenser.