Alumni Success Story
Golden Eagle Devotes Life to Children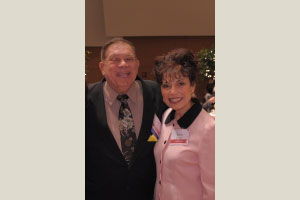 Although he is very proud to be an AU graduate, Jack Exelbert CAS/BA '57 considers marrying his wife of 48 years, Trudy, his greatest accomplishment.
Together they have devoted their lives to educating children.  Exelbert taught students with intellectual and developmental disabilities in the public school system for 29 years, as well as at a rehabilitation center for children with brain injuries and developmental disabilities.  Trudy, a graduate of GW with a master's degree from Brooklyn College, continues to work as a speech pathologist.  Jack has served as a participant in many community forums and as a regular guest on the radio show, "Your Child".  It seems natural that together they would found the White Swan School and Day Camp which served as a nursery school and kindergarten. 
Fond Memories of AU
Jack Exelbert cannot think back on all his successes without recalling his time at AU.  Serving as head dorm counselor for freshmen men at Mary Graydon, a student assistant in the experimental lab, a member of the varsity soccer team,  a fraternity brother, and feature editor for the Eagle all played role in his achievements.  The well-rounded opportunities readily available to him as a student shaped his AU experience and his life after college.  "AU gave me the opportunity to build self confidence with many of my successes.  Doors were open to me that I never thought possible," says Exelbert with great affection.
The Need to Give Back
Jack and Trudy Exelbert have been giving back to AU for 7 years. Supporting AU as a member of the 1893 Society is their way of saying thank you for all that AU has done for Jack.  They are delighted to see the university grow in reputation and in size, and want to ensure the same successes for future generations.  Although no longer teaching, it seems the Exelberts remain committed to educating students.