Alumni Success Story
PR Executive Sparks Connections Across Washington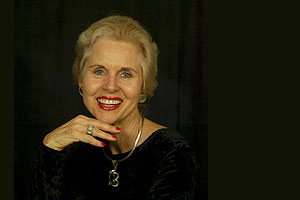 Jan Du Plain, SPA/BA '66, is a connector. The Gallup Leadership Institute, which presented her with its Excellence Award in 1998, commended her for being a powerful networker, hailing her "ability to connect just the right person with just the right talent to make just the right contribution." They extolled the impact of her work, noting, "With her help, alliances are forged and progress is made."
As president and CEO of Du Plain Enterprises, Inc., Jan uses her talents and experience to design and implement integrated public relations campaigns, creative special events, and innovative community relations programs. She uses her expertise to coordinate the Interfaith Speakers Bureau, fostering dialogue among different religions and cultures.
Her efforts to connect people range from establishing the first Women's National Leadership Training Institute, housed at AU in the late 1970s, to serving on the executive team which launched Cultural Tourism DC's inaugural PASSPORT DC. The two week long, city-wide cultural celebration of Washington's international and diplomatic community resulted in 55 participating embassies.
After graduating from AU, Jan's career in building connections continued in California at her father's award-winning newspaper, followed by a stint at an award winning literary agency. A few years later, she returned to Washington, taking advantage of all the city had to offer – utilizing her laid-back, California charm, as the PR Director at the historic Ford's Theatre, and later for 15 years as the PR director for WETA Radio & TV, the third largest producer of programs for public television in the USA.
Today, she takes great pride and joy in being the "go-to" person, helping people make connections and experience Washington as "a world-class capital city" – a calling that sprung from her student days at AU. "My work helps implement what I discovered at AU," says Jan, "Bringing people together to learn from each other and make new connections."