Capital Campaign Success Story
Past AU Parents Support Future AU Students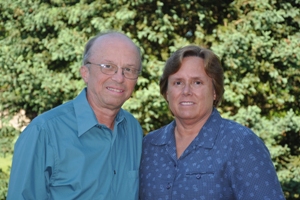 Although their daughter Megan SIS/BA '00, is currently doing post-doc work at Brown University, Jean and Thomas Klein make it a priority to make their President's Circle donation every year. In fact, they are now members of AU's new 1893 society for loyal donors who give to AU for 5 consecutive years or more.
When asked what motivated them to support AU long after Megan's graduation ceremony, Jean explained that philosophically, she and Tom believe it's important to support fine institutions of education like American University, especially now that their children are all grown and they have the capacity to do so.
Jean has the unique perspective of being both a parent and a faculty member of a private university—she teaches both graduate and undergraduate level nursing students at Immaculata University in Pennsylvania. When Megan chose AU, Jean had very specific questions, but thankfully AU answered them all and then some.
"Megan got a great education from a parent's perspective and from an educator's perspective," says Jean, "we couldn't find any fault with AU throughout her 4 years there."
Looking back at Megan's experiences, it's easy to understand Jean's feelings. While at AU, Megan studied abroad at the Sorbonne in Paris and in Costa  Rica. During her senior year, she obtained an internship position at Population Services International that turned into her first job after graduation. After that, there was no stopping her.  
Megan earned her PhD at UMD with full funding before moving on to Brown University where she is now doing post-doctoral research on AIDS.  According to Jean, "Megan was a concerned student right from the start, very active with various causes, and AU really fostered her interests."