Alumni Success Story
Give a Year, Change the World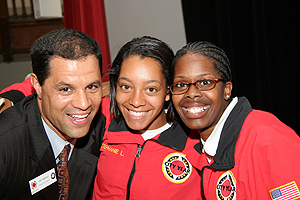 As Executive Director of City Year Washington, D.C., Jeff Franco, SIS/MA '97, Kogod/MBA'05, gets to live his community service values each day by uniting young people from all backgrounds for a year of full time service to their communities.
"I have always been attracted to the idea of leaving the world better than you found it, which is what drew me to international development, as well as volunteer opportunities within my community and church."  Franco learned about City Year from a former boss and mentor who served on the board at City Year Washington, D.C. and encouraged him to apply to an opening for Executive Director.  Today, he couldn't be happier.
Franco revels in watching his tutors, mentors, and role models transform schools and neighborhoods across D.C. and create a lasting impact on the children they serve.  In addition to their hands-on work with students, corps members also complete physical service projects in the community, such as at schools, community centers, and libraries. These beautification projects make the city a more inviting and positive place for D.C. students.
Given the organization's motto, "Give a Year, Change the World," it's no surprise that a typical day for Franco is anything but typical.  City Year partners with numerous organizations on their projects and programs, and Franco must facilitate these relationships; provide support to the City Year staff and corps members; fundraise; and serve as a board member liaison.
"I have always said that the corps members are my heroes. They have sacrificed a year of their lives to give back to their communities.  They work more than 50 hours a week with limited pay for the belief that they can change the world during their time at City Year.  At the end of their year, that is exactly what they do."
A World View
Prior to joining City Year, Franco worked at the U.S. Department of Commerce in Rio de Janiero; consulted for global companies and world banks; and served as the director of Global Business Development at Voxiva, a Washington, D.C.-based international technology company specializing in disease surveillance systems for HIV/AIDS, SARS, and avian flu in developing countries.
In the Community
Outside of his professional work, Franco dedicates much of his free time to various communities. He's a member of D.C. nonprofits Hands on Housing; So Others Might Eat (SOME); and Net Impact, an international organization that seeks to make a positive impact on society by growing and strengthening a community of new leaders who use business to improve the world.
A donor to the Kogod School of Business and the School of International Service Deans' Funds, Franco has no doubt that his Masters degree in International Affairs and his MBA were key components in preparing him for the job he currently holds at City Year.
Franco has spoken to business classes at Kogod about his job experiences and is always willing to help students that are grappling with similar career questions that he had as a student.  "My education at American has given me such amazing opportunities in my career and has really demonstrated how important education is in today's competitive job market."