Student Success Story
Maximizing Opportunities for Social Change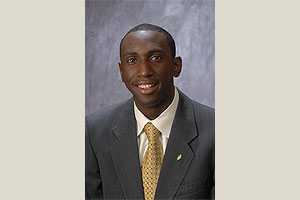 Jonelle Williams has seen the dark side of the human struggle, and is intent on making the world a brighter place through reasoned social change. Born in Freetown, Sierra Leone, Williams and his family fled their native country in his 10th year to escape civil war. After brief stops in Nigeria, Republic of Guinea, Republic of Côte d'Ivoire, England and Cleveland, Ohio, his family settled near Baltimore, Maryland where Williams attended middle and high school.
Williams is now earning a bachelor of arts degree in justice in the School of Public Affairs with plans for law school. But this recipient of the National Organization of Black Law Enforcement Executives (NOBLE) Scholarship isn't waiting for his JD to start practicing civic responsibility. "Complaining about social issues is the easy part," he explains. "The real challenge is to develop solutions that really work and deliver them to our communities."
The NOBLE scholarship, initiated at AU in 1992 by the Washington chapter of the National Organization of Black Law Enforcement Executives, provides tuition support to exceptional minority students studying in the Department of Justice, Law and Society in the School of Public Affairs.
A 2006 incident in which Williams was a victim of racial profiling ignited his passion to dig into the issue in through an independent study course at AU. His research entered the national debate after he presented it to industry leaders at the Academy of Criminal Justice Sciences in Ohio, the Ella Baker Center for Human Rights, and the Berkeley Police Review Commission in California.
His next step is the development of a national curriculum. "The only way to combat racial profiling is education," he says. "People don't have a full awareness of their rights, so they just fight back in ineffective ways. I want to be an outspoken voice."
Williams is reaching out locally, as well was nationally. A founding member of DC Today…DC Tomorrow, a service organization comprising students from AU and George Washington University, Williams dedicates two days per week to inspiring inner city high school students to become social change agents through engagement with local human service providers. He also interned with the Public Defender Service of the District of Columbia. While he isn't certain exactly where his future legal career will lead, he surely isn't short on options, and is already proving that he can deliver effective solutions.