Student Success Story
Finding Focus and Passion with Scholarship Support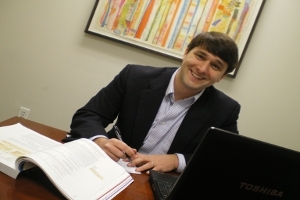 For Kevin Jones, KSB/MBA '12, receiving the Marvin Dekelboum Scholarship helped seal his decision to attend AU. "When deciding where to pursue my MBA, I was looking for the right mix of affordability, location, and upward momentum. The Kogod School of Business offered all three." Jones notes that the scholarship not only opened the door to a first class business school, but is also a source of great personal pride. "When I was in third grade, one of my teachers told me that I would never go to college. I don't think there is a way to express the sense of honor that I feel from receiving a scholarship to graduate school."
Jones, a 2006 graduate of North Carolina State University, was a project manager for a major roofing company before he and his wife, Julie Jones, moved to DC and enrolled together at KSB. He hopes to work in management consulting upon graduating and is very excited by the opportunities that AU and Kogod offer. "The great thing about AU is that it gives us an opportunity to explore our passions and figure out what makes us tick. Professors want us to find careers that will be fulfilling," Jones says. 
With he and Julie both full time graduate students, the scholarship support enables him the freedom to pour himself into his classes without sacrificing academic commitments with employment. "Having a scholarship like this means I can focus 100% on school…Everything from the classroom sinks in, and I will be prepared to go out and give AU a good name. The scholarship gave me an opportunity. Now it's up to me to take it to the next level." 
The Marvin Dekelboum Scholarship, an endowment benefitting exceptional KSB graduate students, was established at AU in 2007 by the Elsie and Marvin Dekelboum Foundation with help from AU alumnus Steven Oram, BS/KSB '71.