Education & Teaching Success Story
Family Values Worth Cherishing
To keep Larissa Gerstel's legacy alive, her relatives are inspiring future generations at AU to follow in her footsteps.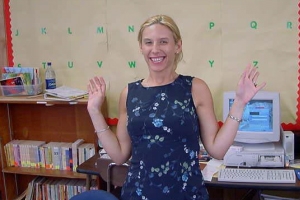 Take a family member of Robin Berk Seitz, SIS/MA '95, or her husband, Richard (Bob) Seitz, and chances are pretty good that person is an educator. Counted among their relatives are principals, classroom teachers, reading specialists, community college instructors, instructional design specialists, and trainers who have worked with diverse populations spanning young children, college students, adults, medical professionals, ESL students, and the deaf and blind. There is a passion that is palpable, illustrated in one case by Bob's mother, who directed a reading clinic open to people of all ages into her eighties. 
So when their daughter Larissa Gerstel, née Rozek, CAS/BA '00—fittingly, an elementary school teacher on her way to graduate school in Denver to become a bilingual reading specialist—had her life cut short by a sudden illness just after her 26th birthday, their response was only natural. Within months, Robin and Bob set in motion a vision to honor Larissa's life by inspiring students and future educators, bringing all of their extended family together in an effort that is still growing after almost a decade.

"This is important to all of us," Robin confides.

********
As an AU student, Larissa Gerstel quickly stood out as a passionate force against injustice. While studying to become a teacher, she became an outspoken advocate of critical literacy, an instructional approach that emphasizes active analysis and questioning on the part of the reader to uncover underlying messages of power, inequality, and injustice in human relationships. Together with one of her mentors—Dr. Vivian Vasquez, a professor of education in the School of Education, Teaching, and Health, (SETH)—Larissa helped found an organization called Educators for Critical Literacy, and reached out to local communities in an urgent effort to make literacy a central component of children's lives. It was the discovery of a calling that would become her life's work. When it came time to enter her field professionally, she took action on her ideals.

"Larissa had been offered a teaching position in a wealthy area near her home in Port Orange, Florida," Robin remembers. "And she chose instead to drive 60 miles each way to teach migrant workers' children."
Dubbed "the fern capital of the world," the town of Pierson, Florida relies heavily on agriculture to support their local economy. Around 60 percent of the population is Latino, as classified by census figures, and one-third live below the poverty line, including 40 percent of children under 18. After a year teaching in Montgomery County, Larissa moved to central Florida, teaching at Pierson Elementary School. Shaped by her own childhood as a second-language learner growing up in Switzerland and Italy, as well as her influential experience as a Spanish tutor in high school, she found a fundamental connection with the community.

"Larissa really knew herself. Kids were really important to her, especially kids who were disadvantaged, and who came from immigrant backgrounds learning English as a second language," says Robin. She also notes that her daughter also worked hard to involve parents, and encouraged them to be active and informed participants in their children's education. "We really were grateful to Pierson because Larissa really found her voice as a teacher there, and really loved her students and colleagues. It was a very important place to her."

Today, Pierson is home to the Larissa Gerstel Parenting Center, where parents join their children in reading and other literacy events.

**********

AU became home for Larissa before she even began the college application process, as a high school student while Robin was working toward her master's in the School of International Service.

"I often took her with me to AU, to the library. Larissa became very familiar and very comfortable being there," Robin explains. "She was always ready to grow up fast. After her sophomore year [of high school], she was ready to move on. Really the only place she wanted to go was AU.

"She really wanted to apply early decision, but you normally can't apply two and half years through high school!" Fortunately, after meeting with the family, the administration at McLean High School wrote a statement in support of Larissa and explained her circumstances, and AU accepted her application, to Robin's delight. "She was just thrilled."

The mother-daughter trips to AU, which set the stage for a college experience that nurtured Larissa's passion for her chosen career and close friendships, remain special to Robin. "I've really been putting a lot of my efforts and energy over the last nine years into the library. It's very meaningful to me and to us as a family, because that's where Larissa developed her passion for AU... It is still that way for me when I visit campus; I feel like I am coming home, this is where I belong."

**********

After Larissa's passing, an outpouring of support from her professors and mentors at AU quickly followed. As Robin recalls, "I talked to Vivian and to Sarah [Irvine-Belson, dean of SETH, another professor who knew her well] to tell them what happened. Immediately they said they needed to do something to honor Larissa's life's work and memory." The Larissa Gerstel Critical Literacy Collection was born, initially funded with $10,000 from SETH, plus other donations. After a pre-opening ceremony in 2006, the collection officially opened in 2007. "They [Vivian and Sarah] really helped this process a lot by initiating the vision. In fact, they both came to Larissa's memorial service [two months later] and brought flyers about the collection to our church."

The collection was to be housed in the Curriculum Materials Center within the AU Library, and as discussions of the concept progressed, AU librarians and development staff worked increasingly closely with SETH and the Seitz family. "It was a partnership," Robin emphasizes. "It really evolved over time." The scope of the effort grew to include an annual event, the Larissa Gerstel Critical Literacy Symposium.

"I remember putting together the first symposium," Robin reflects. "From the very beginning, we set up the fund so that 75 percent would go to the books and curriculum materials and 25 percent would go to a symposium. We knew early on that we wanted it to be both something living—in terms of an event—and also long-lasting, which would be the books, and the teaching of teachers through the curriculum materials."

"The spreading of the importance of child literacy issues has really taken off," Bob adds. "We are very happy to have this as a remembrance for Larissa, but the other goal is genuinely helping students and professors at AU communicate about child literacy issues. [The symposium] has done very good work for all the potential teachers that come out of SETH, and others who attend out of sheer interest. You get different perspectives, and a continually higher level of discussion every year."

In the Curriculum Materials Center, among the many multicultural books for students, children, and parents to learn about issues of social justice and equity in a safe, comfortable space, there hangs a plaque with a quote from Larissa's graduate school application essay:
"The look of understanding that comes over a child's face when she or he finally understands a concept that before was baffling and yet now seems simple is the greatest joy I have had as a teacher."
***********

As momentum surrounding the collection and symposium continued to build, the conversation of sustaining Larissa's presence on campus expanded. "Over time, we gradually began discussions about establishing the Larissa Gerstel Critical Literacy Endowment," Robin stated. With the support of the extended family, the AU Library and SETH, after years of difficult but uplifting work, the endowment became fully funded this fiscal year.

"Why an endowment? It evolved into that. This is really going to be an ongoing legacy that will build—and hopefully exponentially over time—and continue to give to the school and the students, and really have an impact. We're grateful to have the opportunity to have Larissa remembered in this way, as a living legacy.

"I think what's really unique about this is the partnership between the school (CAS) and the Library. It's not easy to work across departments at a university. The fact that this is such a fantastic success story, and that it's ongoing, it's external as well as internal—outreach to the community as well as students and teachers makes this really special. There are a lot great things about that for everybody, including the library."

Not least among these benefits of the endowment is preserving the memories of Larissa for future generations of her family. Says her fourteen-year-old sister Loree, "AU has helped keep Larissa's spirit and ambitions alive, and this has been an experience I will never forget. Over the past nine years, I've felt like the AU community has been like family to me."

"It's really an enduring legacy and an annual legacy," Robin imparts. "We have the best of both. On Larissa's birthday, we want to come on campus and be with Larissa there, and we feel the same way about the symposium during Alumni Weekend in October. This is a way of keeping Larissa's spirit alive; that's the value to us as a family."
The Seitz family wishes to communicate special thanks to all current and former AU community members who played important roles in making the Larissa Gerstel Critical Literacy Endowment a reality: Sarah Irvine-Belson, Vivian Vasquez, and Danielle Sodani of SETH; Alex Hodges, Bill Mayer, and Nancy Davenport of the AU Library; and Jenny McMillan, Sarah Papazoglakis, and Nicole Weaver of the Office of Development.