Alumni Success Story
Late Night Ping-Pong Leads to Love in Anderson Lounge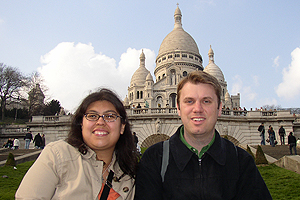 It's hard being far from home. As a freshman, I lived on the second floor of Anderson Hall, the floor designated as the Living Learning Center (LLC). It didn't take long for me to discover that the East Coast is way different than San Antonio. As Texans are wont to do, I actively sought other Texans as a way to remain close to home.
Matt lived on the other side of the hall.  He was from Houston. Despite the difference in our socioeconomic backgrounds, we found out that it was surprisingly easy to relate to each other. Late at night, we would play ping pong in the lounge, and talk about barbecue. He was smart, funny, liked to travel, and had the worst potty mouth that I had ever heard. Of course, it was inevitable that we would fall for each other.
After graduation, we had a hard decision to make when Matt got accepted to law school at the University of California. Ultimately, I crossed the country to be with him, and to pursue a masters degree in Library Science. My persistence paid off one December night when he kneeled down in the damp New Orleans ground and proposed. The next year, we moved back to D.C.
The variety of people that we met at AU certainly helped in our own individual growth, and we have watched many of our classmates cross the country and the world to do interesting things. We have joyfully celebrated classmates' weddings in various cities. Last year, we gathered at Kay Chapel to mourn the loss of a wonderful friend from AU, Annette Langdon.
Matt and I have found ourselves in the fortunate position of being able to donate regularly to different organizations. AU is at the top of our donation lists not only because we feel that we made the most out of our educational opportunities, but also because we enjoy being able to help current students as they make discoveries about themselves. Annette's family also saw the benefit of her AU education, and created the Annette Langdon Memorial Scholarship.
Matt and I still live in D.C., and we have watched with interest the new development in the school—from the Katzen Arts Center to the SIS building. We cheered on the men's basketball team last year as they performed before a nationwide audience. We delight in hearing AU professors give their expert opinions on radio shows. And we always laugh when people assume that we met in Texas and tell them, "No, we met at AU."