Faculty Success Story
TV in Class? CAS Professor Supports Innovation in Teaching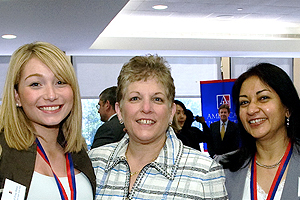 Lynne Brenner Ganek, a professor in American University's School of Education, Teaching, and Health (SETH) program, believes in innovation and imagination.
"As educators and adults, we must help children use their imagination, be playful, critical thinkers, self advocates and educated consumers," she says.
In 1978, a mini grant provided then-student teacher Ganek with the opportunity to change the way she taught – and she made waves, bringing a television into her classroom to teach reading skills. The experience brought her to PBS as one of the creators and writers of the groundbreaking educational children's program, Reading Rainbow. The show garnered a number of accolades in its 23 year run: a Peabody Award and 26 Emmys, ten of which gave it recognition as an "Outstanding Children's Series." The spark of inspiration to use television in a single classroom ignited a television education revolution.
Ganek launched her work with AU as a supervisor for student teachers in the SETH program. She mentored young teachers, who, like herself, sought to transform the classroom curriculum. Ganek recalled the 1978 mini grant which had allowed her to introduce a television into her classroom, and she wanted to give AU student teachers the same opportunity for innovation.
"It occurred to me that it could be magical to give fresh teachers encouragement, creative freedom, and some financial backing to design innovative curriculum in their classrooms," says Ganek. She and her husband Jeffrey created the Ganek Family Mini Grant for Innovation in Education program, supporting student teachers who seek to transform the way teachers teach. Ganek is committed to raising the bar in teacher education at American University, and strives to help create one of finest training facilities for new educators.
Awarded during both the spring and fall semesters, Ganek Family Mini Grants provide funds for AU student teachers to try new methods and programs in the classroom. These projects range from third graders creating a world market bazaar to the establishment of an elementary school newspaper. The grants challenge AU student teachers to think outside traditional teaching methods and find new techniques, providing academic and financial support to the next generation of educators.
"It is imperative in these difficult financial and political times that we teach children to solve problems and enable them to make bold decisions," says Ganek. "We must also encourage them to dream, and dream big."