Alumni Success Story
President of APCO Worldwide Gives $100,000 gift for SPA Scholarship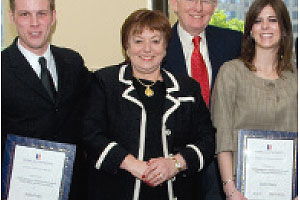 Margery Kraus, SPA/BA '67, SPA/MPA '71, has established the Margery Kraus Public Affairs and Advocacy Endowed Scholarship Fund with a $100,000 gift to the Center for Congressional and Presidential Studies (CCPS) at the School of Public Affairs.
The fund will provide scholarship support for students who participate in the annual Public Affairs and Advocacy Institutes in Washington, D.C., or the European Public Affairs and Advocacy Institute in Brussels, Belgium.
"Margery Kraus is a world leader in international advocacy and lobbying," shares Jim Thurber, director of CCPS. "Her generous support reflects her strong commitment to educate future leaders in the field and makes a real difference in enabling students to participate in the programs."
A member of the AU Board of Trustees since 2003, Kraus is president and CEO of APCO Worldwide, a global consulting firm headquartered in Washington, D.C., that specializes in public affairs, communication and business consulting for major multinational corporations.