Alumni Profile
Alumnus Toby McChesney Challenges His Fellow Eagles to Join Him in Supporting AU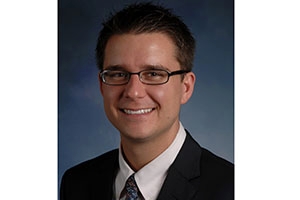 Toby McChesney, SPA/BA '02, a member of the 1893 Society, has always understood the importance of supporting his alma mater.

"AU helped shape me to be the person I am today, and my closest friends are a result of my time at AU. I want to help ensure that prospective students see that huge ROI that I have had from my AU experience," says Toby, when asked about his loyal support of American University.
This year, Toby decided to challenge his fellow alumni to join him. If the university gains 1000 donors between now and the end of commencement weekend on May 11, he will make a gift of $25,000 to the university. "With commencement coming up, I thought it was the perfect time to engage our newest class of incoming alumni and show them that they can have an immediate impact on their alma mater," says Toby.
As a student, Toby was involved with Amnesty International, Habitat for Humanity, and LGBTQ programs. He served as an AU Ambassador and ran the program for two years, overseeing 125 student volunteers. It was his love of giving campus tours that helped him realize he would have a career in admissions.

From Tour Guide to Assistant Dean of Graduate Recruiting and Student Services
After graduating, Toby was offered a job in admissions at AU, were he promoted the university to prospective students. He found it natural to share how AU helped shape his life to soon-to-be freshman students. After four years in the Office of Admissions, McChesney accepted a position as associate director of executive MBA admissions at Emory University in Atlanta. Currently he serves as assistant dean of the graduate recruiting and student services department at Georgia State University's J. Mack Robinson College of Business. Toby has a master's degree in higher education administration and a PhD in higher educational leadership.

Giving Back to AU
In addition to philanthropic support, McChesney serves as an Atlanta Chapter leader, an admissions volunteer, hosts summer sendoff events for enrolled Atlanta freshman, and represents AU at college fairs. "I will always be an AU Eagle," says McChesney with pride.