Alumni Success Story
For Alum, Career Began at AU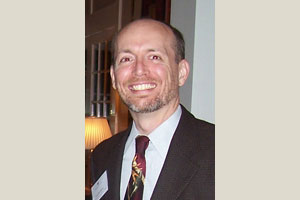 Tom Jacobson, SIS/BA '87, never thought that he could be "checked out," but that all changed his freshman year.
Having worked for libraries his whole life in small town Wisconsin, he was excited to begin using AU's Bender Library where they had the newest, ultra-sophisticated "bar code" technology...in 1983. Unfortunately, during his first trip to Reserves, Jacobson's library card did not work. He had inadvertently been given the barcode for a book, not a patron, so essentially someone could have "checked him out" of the library. This experience foreshadowed the important role the library would play in his future.
During his time at AU, Jacobson fulfilled his passion for libraries by working at the Washington College of Law library. He graduated from the School of International Service in 1987, and his experience at the law library set him on his career path by giving him connections with his current employer, Innovative Interfaces Inc. (III), a software company that addresses the evolving needs of academic libraries around the world.
Jacobson credits American University for providing the supportive academic environment that made his education and growth possible, and he feels that it's only right to give something back to the next generation of students. For the past couple of years, Jacobson has headed of the Friends of the Library Steering Committee, helping to raise both money and awareness for the University Library.
"I was honored when asked to participate. This [field] is what I have personally and professionally staked my life on, and I feel like this is the area of American University where I can contribute the most, meaningfully."
Indeed, since the group was founded in 1999, the Friends of the AU Library has continued to provide innovative events and programming that engage students, faculty and neighbors as well as raising close to $2 million for the library.
He hopes you'll check out the library next time you're on campus to see and learn more about all of its latest upgrades and amenities – from the Mudbox Café to the research stations and special collections.