Alumni Success Story
From SOC to Fox News, and Back Again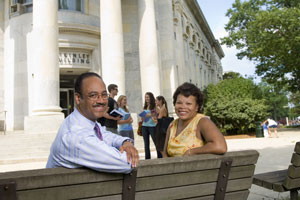 FOX News' Tony Perkins, SOC/BA '81, and his wife, Rhonda, made a generous $100,000 gift to name the Tony and Rhonda Perkins Classroom.
"I am extremely proud of my relationship with AU, and Rhonda and I are so pleased to be able to make this gift," said Perkins.
"AU helped shape my life, and I cannot fully explain what it means to give back in such a meaningful way. As a Dean's Advisory Council member, I know first hand the work that is being done to guarantee that the education and experience students have here will be second to none. The redesigned McKinley Building, when completed, will be the pre-eminent communication school in the country. These are exciting times, and I'm thrilled to be part of it."
The Perkins classroom is on the first floor of the McKinley Building, alongside a two-story, glass-enclose converged newsroom with the latest technology that will showcase students working across media platforms.
After a $20 million renovation, the historic McKinley Building will be the home to SOC's new facility, where traditional values and new skills will be applied in the radically changing communication environment.
SOC is on a mission to inspire and train the next generation of communication professionals, and this new facility will support its strong programs in journalism, film and public relations.