Capital Campaign Success Story
Vietnam Veteran Turns to Art, Activism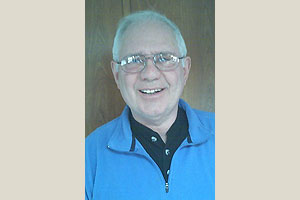 Forty years ago, you might have found Vietnam War veteran Mike Venuto, SPA/BA '67, SOC/MA '73, sitting in the AU library for a moment of peace and solitude, or perhaps at the gym staying in shape, working toward one of his eight varsity letters.  When he wasn't on campus, you could probably find him on the Hill, where he worked for the House Veteran's Committee. 
Venuto now recalls his time on campus as an eye opener. "It was inspirational to see.  AU is a comparatively avant garde school.  It challenges you with new thoughts and ideas and encourages people to be active in their lives."
Fast forward to 2008, Mike now spends his time lobbying for legislation to support veterans and military families.  This past year, he was appointed to Washington state's Veteran's Legislative Coalition and assisted in getting 11 bills passed, including one bill 13 years in the making, which will assist disabled veterans by giving them a break on their property taxes.
In addition to his work for veterans, Venuto has published two books; a novel called "Flashback," and a book of poetry called "Angels Beyond the Hill."  He is currently working on a second novel centering on Aries, the god of war, to be released in 2009.
Venuto says his proudest accomplishment would probably be graduating from school and being able to teach at the college level.  He taught communications as a teaching assistant at AU, and more recently at the College of the Redwoods in California, and Tacoma Community College. 
Now a member of the 1893 Society, a giving society honoring loyal AU donors, Venuto has been steadfast in his determination to give back to the school that taught him to, "try to change things for the better, if you can."  When asked why he donates each year, he humbly states, "AU always went out if its way to help me.  I wish I could do more."