Student Success Story
Soaking Up Chinese Culture, in Beijing and Hong Kong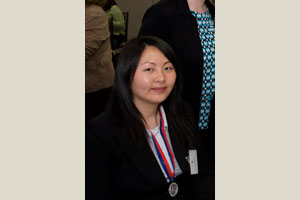 Ye Wang, a recipient of the Masonic Foundation of the District of Columbia's Stewart W. Miner Scholarship and the James Edward Miller Chapman Scholarship, is spending some time beyond the beltway.  This spring, she'll be headed to Hong Kong with AU to learn more about China's vast array of dialects as she pursues her minor in Chinese. 
Wang, a senior at Kogod, expects to graduate in May 2009 with a degree in marketing management.  She hopes to land a job that will not only further her experience, but give her the skills she needs to open her own business.  Wang's interest in business was born in high school, at about the same time she also began to consider AU.  She ultimately decided to attend because AU's small class sizes "allow students to interact with professors and enable you to ask the questions you need answered."  This year, she particularly enjoyed upper level classes with a diverse group of students.
Scholarships also played a significant role in her decision.  Beyond her degree, the scholarships allowed her spend the summer in Beijing.  Wang, a D.C. native whose parents hail from southern China, relished the chance to experience Chinese culture firsthand.  The scholarships will also give her the opportunity to travel to Hong Kong, where she will spend the last months of her time at AU soaking up the richness of the study abroad experience.
After her time in China, Wang says graduate school is a possibility.  Whatever her decision, though, Wang hopes to join the workforce and looks forward to testing her entrepreneurial spirit.