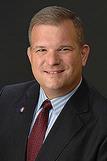 Thank you! With the generosity and leadership of tens of thousands of alumni, parents, faculty, staff, and friends, American University surpassed the $200 million financial goal of the AnewAU campaign, successfully concluding at $214.1 million.

Moving forward, our commitments to building first-rate facilities, raising scholarship and budget relieving dollars, and supporting faculty through the establishment of endowed research programs, professorships, chairs remains steadfast.
We could not have done what we have done without you, and we will not be the best AU we can be without your continued support and involvement.
To learn more about getting involved and giving back, email me at vpdar@american.edu or call the Office of Development and Alumni Relations at 202-885-5900.

Thomas J. Minar, PhD
Vice President of Development and Alumni Relations