Alumni
Fourteenth Annual Celebration of Scholarships Recognizes Philanthropic Support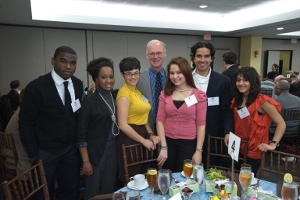 On Wednesday, March 23, more than 270 scholarship donors, recipients, and members of the American University community gathered to celebrate the tremendous difference made by philanthropic scholarships in the lives of AU students.

This year's Celebration of Scholarships luncheon offered students the opportunity to thank the generous benefactors who play an integral role in their education. Donors and guests saw first-hand the result of their investments in AU students.

At the event, President Neil Kerwin, SPA '71, shared that "the urge to see to it that someone else has the opportunity to experience the transforming power of this great university" is at the core of scholarship giving. He also encouraged the students in the audience to reflect on this aphorism and, in time, "return the act of generosity that helped them along the way with an act of generosity of their own."

Gail Short Hanson, vice president of Campus Life, served as master of ceremonies and the audience caught a glimpse of this spring's production, Measure for Measure, from members of its cast with a special performance by Ramya Anbalagan, CAS '13, Noah S. Cooper-Hauser, SIS '14, Timothy P. Harmey, CAS '12, and Julia Peltier, CAS '14.

In the keynote address, William Hubbard, SIS '11, a recipient of the Helen Bawsel Memorial Scholarship, demonstrated how scholarship support transformed his student experience. He spoke for all of the students in the room when he said, "receiving a donor-funded scholarship opens doors to new experiences perhaps unattainable without scholarship support." At the time Hubbard learned he had been awarded the Bawsel scholarship, he was managing a full course load, serving in the U.S. Marine Corps, and working as a paralegal at a D.C. law firm. Receiving the scholarship gave Hubbard the gift of time to explore his true passion in extracurricular activities and allowed him to serve as director of the Kennedy Political Union, AU's student-run political lecture series. Hubbard's academic and personal successes are testament to the extraordinary work scholarship students achieve because of philanthropic support.

President Kerwin also paid tribute to some of the University's beloved benefactors who recently passed away: faculty members and scholarship donors Bernard "Bernie" H. Ross of the School of Public Affairs, Sue Marcum of the Kogod School of Business, Robert Griffith of the College of Arts and Sciences, and former American University Trustee, Bishop James Mathews. Through scholarships and special memorial funds, their legacies will touch the lives of the next generations of American University students.

In this 2010-11 academic year, more than 450 exceptional students are receiving financial support from philanthropic scholarships. Between May 1, 2003 to March 2, 2011, 83 new scholarships were established by AU alumni, friends, faculty and staff during the AnewAU campaign and immediately thereafter.