Alumni
Fifteenth Annual Celebration of Scholarships Honors Philanthropic Scholarship Support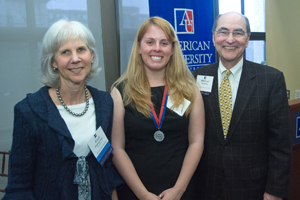 There was much to celebrate at the fifteenth annual Celebration of Scholarships on March 21. Since May 1, 2010, donors have established 34 new named scholarships at American University, and in academic year 2011-12, more than $6.1 million in aid was available to more than 500 student recipients of donor-funded scholarships, fellowships, and awards.

At this year's event, more than 250 scholarship recipients and donors gathered to celebrate the significant impact scholarships have on the lives of AU students. The luncheon provided recipients the opportunity to express their gratitude to the generous supporters who help make their educations possible, while alumni and friends were able to connect with the extraordinary students who inspire their philanthropy.

At the event, Vice President of Campus Life, Gail Short Hanson, served as master of ceremonies. She began the program by introducing President Neil Kerwin, SPA/BA '71, who spoke about the similar legacy faculty and scholarship donors create by investing in AU's talented and impressive students. He explained, "The donors in this room have reached across generations with a hand of help to a young person with great accomplishment and even greater promise."

Following his remarks, Carol Shaskan Horn, SPA/MPA '74, shared with the audience the meaning of the Shaskan Family Scholarship to her family. Since it was established in 1984 by Carol's parents, Myra and George Shaskan, CAS/MA '43, the Shaskan Family Scholarship has provided financial assistance to more than 110 scholars. Every year, Carol's parents drove from New Jersey to meet the recipients at this annual luncheon. Their devotion and loyalty to American University has inspired Carol and her sister, Susan Shaskan Luse, WCL/JD '77, to continue supporting the scholarship in honor of their legacy.

Kendall Byl, Kogod/BSBA '12, the current Shaskan Family Scholarship recipient, spoke about the incredible impact scholarships have on students who are struggling financially. She concluded, "Simply put, these scholarships are not merely a financial reward. Your support inspires us to push beyond our limits to truly make the most of the gifts that we have been given."

Scholarship funds provide resources that help change the lives of AU students, making tuition assistance available based on both need and merit. By removing financial barriers, they allow AU to attract and retain the most qualified and diverse student body. American University remains focused on supporting the next generation of leaders. Generous scholarship donors help ensure that we achieve this goal.