Education
Endowment for the Ages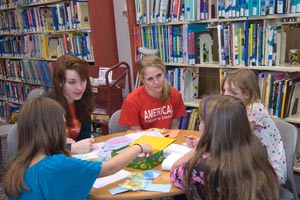 Larissa Gerstel, BA elementary education '00, exemplified the AU alumna: bright, enterprising, and committed to diversity and service. As an education candidate and teacher in training, she emphasized to her students the importance of critical literacy—the ability to read texts in an active, reflective manner to better understand power, inequality, and injustice in human relationships—and she founded AU's first critical literacy group.    
After Gertstel's untimely death in 2005, her family worked with Bender Library and the School of Education, Teaching, and Health (SETH) to create the Larissa Gerstel Critical Literacy Collection, located in Bender's Curriculum Materials Center. Funded with a $10,000 donation from SETH plus additional donations, the collection features books about multiculturalism and social justice for education students, as well as for children.    
"Larissa [was] an engaging and inspired student," says SETH Dean Sarah Irvine-Belson. "When we learned about her passing, we decided we wanted to do something to commemorate her life and the lives of teachers."   
To maintain and grow the collection, library staff—including university librarian Bill Mayer, assistant librarian and SETH professor Alex Hodges, and associate director of library development Jennifer McMillan—joined  SETH faculty and Gerstel's family to establish the Larissa Gerstel Critical Literacy Endowment. Funded exclusively by her parents and extended family, the endowment helps to cover the cost of new books, electronic resource, and events.  
"Endowment giving really speaks to something that people want to support in perpetuity," says McMillan, noting that endowments established a decade ago continue to sustain the library's mission.  
"We hope our student teachers will know that [although] Larissa came before them, they can continue to build on the work that she did," says Hodges. "And we hope her family knows that these commitments [to Gerstel] are there and her legacy will live on."   
You can donate to the Larissa Gerstel Critical Literacy Fund through www.american.edu/anewau/giving.
—From "Endowment for the Ages," Connections Magazine, spring 2010.