AU Celebrates Asian American Pacific Islander Month
By Patrick Bradley
May 1, 2013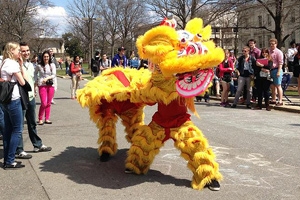 Just as the end of the academic year approached, a pair of dancers took to the university quad.

Dressed in traditional Chinese lion dancing garb, the duo signaled the arrival of Asian American Pacific Islander Heritage Month on campus for April. The Center for Diversity & Inclusion's coordinator of multicultural and first-generation programming Caroline DeLeon staged the event as the welcome for one of her favorite months of the year.

"This month is probably my favorite to plan," she says. "Students know what they're doing. This month, more than any other month, there's more tradition in event programming."

Students knowing what they're doing has translated into an engaged community of event programmers and sponsors on campus, leading to a packed month that's consistently successful, even during the busy period just before finals.

"I see the groups and the collaborations always come to us to say, 'Hey, this is what we have on the calendar. This is what we're doing,' which makes me super excited because it shows we have such a strong population here that honors this month and is willing to contribute to different events," DeLeon explains.

For School of Communication sophomore and acting president of the Asian American Student Union (AASU) Aurora de Peralta, contributing to the campus and creating community is exactly the purpose of the month-long celebration. It's what keeps her and her organization involved.

"As an individual and president of AASU, it's really about building and coming together as a community and really celebrating their identities," she says. "Because it's a month for us, the community aspect is really important."

To that end, AASU organized their annual Asian American Student Voices event, this time featuring a discussion on xenophobic rhetoric in social media. Their hope is to cultivate a more engaged, cross-cultural experience for the student body.

Similarly, president of the South Asian Student Association (SASA) Ritanch Hans – a senior in the School of International Service – thinks the month is about breaking students out of their cliques and comfort zones to get conversations started. He wants students to know that the doors to his group are open, no matter what a student's background may be.

"It's not limited, and you're welcome anytime," he says. "That's the goal, to integrate more of AU. Sometimes it's hard to get out of your bubble. That's a goal for the month, to get people out of those bubbles."

SASA's Holi on the Quad brought some two hundred students out of their bubbles as they danced and threw paint in the traditional Hindu celebration of spring. After several years on campus, it's becoming a beloved tradition that brings all different types of students together.

"It's been getting progressively bigger each year. It's a lot of fun, and what I think is great about it is that it brings all types of people from campus," Hans says. "Whether you're in a fraternity, sorority, or a club, it doesn't really matter that day. You're just throwing color and dancing. That's AU at its best."

Holi on the Quad counted itself as more than a dozen events this month, many of which ranged from the Hawaii Club 5th Annual Lu'au to the South Asian Art Festival keynoted by the ambassador of Sri Lanka. Tuesdays and Thursdays throughout April offered tai chi classes in the Jacobs fitness center.

That spread of programming is another piece that both excites DeLeon and reflects the well rounded education at AU.

"You see the diversity within the different departments of how we're celebrating the Asian and Pacific Islander cultures," she says. "It doesn't necessarily have to be through lectures or performances. It could be through wellness and self being. I'm really excited to include that on the calendar."

Like everything at AU, though, there's always a strong academic connection to what happens on campus. In fact, de Peralta's cross-cultural communications professor offered extra credit for students to attend her group's event, noting its educational value.

With that academic piece, it's the diversity of events promoting the diverse spirit of AU that truly defined April from the first moments the lion dancers set foot on campus.

"We all know that AU is very politically and socially involved. That's one of the things that is unique about our club as a cultural group, is that we focus on how our Asian American Pacific identities relate to the greater social and political issues around us," de Peralta says.