Alumni
Innovation Fund Advances New Health Policy Solutions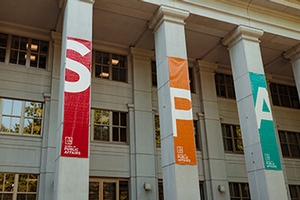 The COVID-19 pandemic has underscored the need for bold and assured health policy. As the country tackles its response to the coronavirus, AU is also preparing to address future requirements in healthcare and how to support visionaries in the field. Thanks to the SPA Health Innovation Fund established last year by Stacey and Gary Jacobs, SPA/MPA '76, AU can fuse the capabilities of faculty, students, and experts to help advance groundbreaking ideas in healthcare delivery.
The couple's gift enables the School of Public Affairs (SPA) to tap into the knowledge of experts across campus to help resource-strapped nonprofits and policy groups test and evaluate their new ideas in health care solutions. The fund helps bring together a strong working group to provide analysis and serve as a sounding board. "We think of this as a workshop for new ideas in the area of health care delivery," Wilkins says.
The fund builds upon AU's record of health leadership by informing policy debates, supporting cutting-edge research, extending the school's impact in healthcare, and enhancing student learning at the intersection of public policy, health, and business.
Vicky Wilkins, dean of the School of Public Affairs, says as the 2019 endowed fund develops, SPA is focused on identifying additional experts to join the effort to convene conversations that can solve world health policy concerns. Issues like preparedness or home health care have come to the forefront through the COVID-19 outbreak.
"Gary has a passion for how we can fuel innovation in an area that's looking for new policy approaches," says the dean. "He is an expert in the field and pushed for evidence-based policymaking. The SPA Health Innovation Fund will inform and shape policy solutions that work."
Gary Jacobs, who has years of experience across many health organizations, is president of Village@Home, fostering a new approach to primary care for complex patients that links technology, remote monitoring, and highly trained practitioners to provide in-home care. He and his wife Stacey created the fund to "spark new ideas in a rapidly changing health care environment, and offer teachable moments for our students by providing them the skills necessary to compete in this new, emerging health economy."
Jacobs, a longtime member of the SPA Dean's Advisory Council, received AU's Alumni Eagle Award in October 2019 for his outstanding service to the university. At the ceremony, he spoke of the inspiration to create the fund: "AU has been an integral part of my success in life. Core to my belief system is giving back and helping people find their path. I love coming to teach at AU. Mentoring our students is a shared responsibility. Stacey and I decided we would give back to AU by building a health innovation fund for the university. We want students to have the opportunity to learn about health policy and convert that knowledge into practical jobs."
Stacey shares Gary's enthusiasm for mentorship and philanthropy. Providing students with valuable experiential learning and access to experts is an important aspect of the SPA Health Innovation Fund. She's seen the positive impact of such internships and other hands-on learning experiences on their three sons and family friends. "It gave me pleasure to follow their careers and discuss their days at work. I love seeing kids grow—that's my passion."
The March 2019 issue of American magazine has more information about the many ways American University is a leader in health.