AU Celebrates Installation of the First Kogod Regional Innovation Chair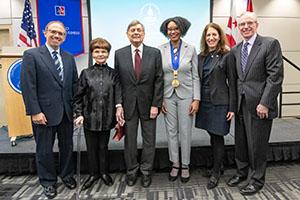 Dr. Brett Anitra Gilbert was formally installed as the inaugural Kogod Regional Innovation Chair in a ceremony on March 8 at American University's Constitution Hall. This marked an important moment of recognition; holding an endowed chair is one of the greatest honors in academia, conveying the chairholder's expertise and record of achievement. 
The Kogod Regional Innovation Chair, within American University's Kogod School of Business, was made possible by the generous investment of Trustee Emeritus Robert P. Kogod '62, H '00 and Arlene R. Kogod. The endowed chair is a facet of the Arlene R. and Robert P. Kogod Regional Innovation Fund, designed to connect business scholars with the area's business community and to support research on the increasing significance of regional economic centers. 
"The Kogods have helped ensure that generations of AU graduates are prepared to be changemakers in this continuously changing world," said President Sylvia M. Burwell at the ceremony. "As we stand on the verge of rising to the next level, it's support from proud Eagles like the Kogods that will lift us up. Today is a reminder that our success is powered by philanthropy, generosity, and a commitment to the values of AU by our supporters and our alumni. They give us the fuel that will get us to where we're going—a future at AU where we excel in scholarship, in the student experience, and in building a sense of community."
An accomplished entrepreneurship researcher, Gilbert joined the Kogod School of Business management faculty last year bringing a deep knowledge of new venture growth and innovation, geographic clusters, and the development of emerging technologies. She was previously on the faculty of Rutgers Business School.
An inaugural lecture by the newly-installed professor is tradition at such ceremonies. At the event, Gilbert spoke of her research to date and her influences in shaping her body of work. She highlighted the inspiration of her mentors, many of whom hold endowed chairs at the Kelley School of Business at Indiana University, where Gilbert received a PhD in Entrepreneurship. "It was a privilege to have been taught by scholars who were recognized for the significant contributions they have made to the field. I set a goal to one day be among them, not for the prestige of holding an endowed chair (although that's nice too), but for the satisfaction of knowing that I, too, had completed a body of work that was recognized as important, impactful, and beneficial to the field. For this reason, it is a tremendous honor to stand before you today as the inaugural holder of the Kogod Regional Innovation Chair," Gilbert said.
"It is a special privilege to be named the Kogod Regional Innovation Chair, bestowed by the Kogod family, who have devoted their lives to developing cities, supporting cultural and  heritage institutions, and improving the arts in Washington, DC," said Gilbert. "These topics are deeply important to me as well, as a supporter of the arts, a proud African American, and a lover of strong, vibrant cities."
Daniel J. Myers, who began his tenure as American University's provost and chief academic officer in January, remarked that the fortunate timing of his arrival allowed him to preside over AU's first formal installation ceremony. "AU is dedicated to attracting the most talented, skilled, and committed scholars now and in the future," Myers said. "One very significant way this can be achieved is by establishing endowed chairs. By providing opportunity to bestow this highest accolade upon a faculty member, visionary donors like Bob and Arlene Kogod, create an enduring legacy, and ensure that AU will be home to the most exceptional and engaged thought leaders and practitioners."
American University recently launched a five-year strategic plan, "Changemakers for a Changing World," to build on AU's legacy of leadership, scholarship, and service, and opportunities for greater impact. The plan embraces great teaching as a long-standing strength at AU and seeks to create additional opportunities for dynamic learning and cutting-edge research. To achieve these goals, the plan calls for the university to seek support for additional endowed chairs to bolster the work and impact of AU faculty.