Student Life
Food and Festivities Set the Table for thanksGIVING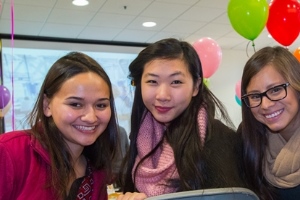 As November drew to a close, and our minds turned to turkey, pumpkin pie, and gathering with friends and family, American University students gathered for a mini-holiday of their own, expressing their gratitude for the elements of campus that mean the most to them at thanksGIVING. While fittingly munching on turkey and cranberry sandwiches and trying their hand at Wheel of Fortune-style trivia in the festive atmosphere, they wrote letters to AU donors to articulate how the generosity of others impacts their college experience. Many also put their thanks on display by signing large posters that will be seen by AU alumni and donors around the country.

In total, 150 students wrote 155 letters of gratitude over two days, with more on the way from some who were unable to attend. Some students who stopped by on day one had such a good time that they came back the next day to write more letters, bringing friends along to join in the fun. The event was educational as well—students enjoyed learning how gifts from AU donors impact every facet of their campus experience, evidenced by the popularity of the "Wheel of Giving."

The appreciation of the students—many of whom are recipients of donor-funded scholarships—will reach several groups of AU supporters. Scholarship recipients wrote to the donors who established their awards, while others wrote to many who contributed to the AU Fund for Excellence, which fuels the annual operating budget; members of the Helen Palmer Ketter Society, who have stated an intention to include AU in their estate plans; and first-time donors to the university, many of whom are recent graduates.

For more thanksGIVING highlights, check out the event's Flickr album.