Alumni Association Scholarship
The Alumni Association Scholarship supports Legacy students pursuing higher education at American University.

American University values the legacy of an AU education, passed down from generation to generation.
In 1981, the Alumni Association Scholarship was created to support legacy students - those whose parent or grandparent received a degree from AU. This $5,000 annual scholarship is awarded every year to an incoming first-year legacy student. Eligible students must have a minimum 3.5 cumulative high school grade point average and should submit the following for consideration:
500-word essay answering the question: What would receiving the Alumni Association Scholarship mean to you?
Résumé , including extra/co-curricular involvement and other activities
Need help creating your résumé? Check out some examples from the AU Career Center
Letter of Recommendation
The scholarship is renewable for up to four years provided that recipients remain in good standing with the university and maintain at least a 3.0 grade point average at AU. Scholarship recipients are selected based on academic records, involvement in leadership and community service activities, and demonstrated financial need.
Each year's recipient is selected by the AU Alumni Board. 
The Alumni Association Scholarship is funded by the Alumni Association Scholarship Endowment, which was created in 2008 to ensure the continuance of this program. Private gifts and proceeds from the Alumni Audit program help support the endowment. The Alumni Audit program offers an opportunity for alumni to audit one AU course per semester for a nominal fee, which supports the scholarship's endowment.
For more information about the Alumni Association Scholarship, please contact legacy@american.edu.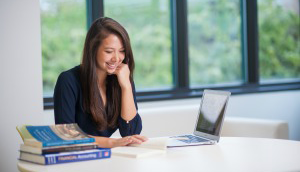 Support the Scholarship
You can make a difference in the lives of future AU legacy students by contributing to the Alumni Association Scholarship Endowment fund.
The Alumni Association Scholarship application is now closed. Incoming first-year students are invited to apply each spring. Please contact legacy@american.edu with questions.