You have the opportunity to give back to AU

Office of Development
4400 Massachusetts Avenue NW
Washington
,
DC
20016-8023
United States
Are you passionate about giving back? Are you looking to get involved with the AU community of students, faculty, staff, and alumni? Are you looking for unique and practical skills for your resume? If you answered YES to one of these, you should join STAT!
What is STAT?
American University's Students Today, Alumni Tomorrow (STAT) committee plays an important role in student philanthropy and serves a variety of purposes. The committee:

Enhances the student connection to AU as they transition to young alumni status.
Promotes the importance of philanthropy and active engagement with American University.
Highlights the resources provided to students by the American University alumni network.
Solicits peers for gifts to the university as part of the senior class gift to enable future Eagles to experience a world-class education.
Members of the committee acquire real-world knowledge and experience in philanthropy, fundraising, project management, marketing, public relations, and more. Members develop practical career, presentation, and event planning skills. Additionally, members network with high-level university administrators and alumni at special events and deepen connections with the AU Alumni Association.

Name: Fatima Munshi
STAT Position: Co-Chair, Senior Class Gift Fund Chair
Major: Communications, Legal Institutions, Economics, and Government (CLEG)
Class Year: 2018
Favorite AU memory: I had the opportunity to meet Nobel Laureate Malala Yousafzai at this year's Wonk of the Year event!
What AU fund do you support and why? I support the Campus Life Fund because I want current and future Eagles to have the amazing experiences I had during my time at AU. I would love to see AU's campus grow to be more inclusive and versatile, while also providing the resources for students to grow and succeed.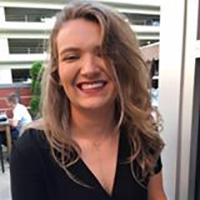 Name: Tessa Houser
STAT Position: Co-Chair, Director of Philanthropy and Education
Major: SIS Major, Kogod Minor
Class Year: 2019
Favorite AU memory: My favorite AU memory is probably my freshman year Welcome Week. It was so much fun and a great way to start off my college experience.
What AU fund do you support and why? I support the Wellness Center because I believe that all students should have access to mental health and a safe space here on campus and I want to further their resources by donating so they can be there for years to come.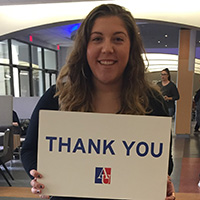 Name: Nina Campos
STAT Position: Director of Events and Volunteer Recruitment
Majors: International Studies and Women's, Gender and Sexuality Studies
Class Year: 2019
Favorite AU memory: The blizzard of winter 2015 and the snow fights on the quad that came with it will always make me smile!
What AU fund do you support and why? I support the Women's Gender and Sexuality Studies Fund and the SIS Fellowships for Women or Minorities Fund, because both of these funds relate to issues I am very passionate about both as a future academic and as a Latina.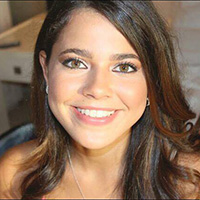 Name: Maria Isabel Aguayo
Major: International Studies and a minor in Business Administration
Class year: 2020
STAT Position: Director of Marketing and Communications
Favorite AU memory: Got to see Malala Yousafzai this year at the AU Wonk Award.
What AU fund do you support and why? I support the AU Fund for Excellence because it supports the American University experience for students in all aspects. For example, it helps AU acquire better technology and resources, hire inspiring professors, and provide resources for a robust student life experience for all students.