Fit-Friendly Worksite

This workplace has been recognized by the American Heart Association for meeting criteria for employee wellness.

Tobacco- and Smoke-Free AU

AU is Proud to be Tobacco- and Smoke-Free
The AU campus has a wide assortment of healthy dining options. This includes the main dining facility, the Terrace Dining Room (known as TDR), the Marketplace (featuring Einstein Bros Bagels and Freshii), the Tavern (featuring Elevation Burger and Global Fresh), the Eagles Nest (featuring Subway), and the University Club.
Food service at American University is provided by AU Dining, a company committed to quality, innovation, and customer satisfaction through excellent food and service.
AhealthyU's recipe database is full of healthy breakfast, lunch, dinner, snack, and beverage recipes. Every recipe uses fresh and natural ingredients.

Diet to Go is a healthy eating program that offers customizable, prepared meals with flexible scheduling options and multiple pick-up locations. Faculty and staff are eligible for 25 percent off the first week and 5 percent off every following week. Use code: AMU5

A comprehensive weight-loss and lifestyle modification program that combines a structured diet using HMR foods, increased intake of fruits and vegetables, increased physical activity, and behavioral lifestyle coaching by phone to support practicing the skills needed to maintain weight loss long term.
Click here for more information or contact: Craig.Hartis@hmrweightmanagement.com | 301-471-5633 | 1-877-501-9257

Use code 'AMER UNIV' for special discounts.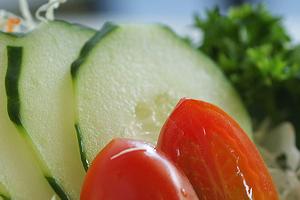 Photo by williamcho
Weight Watchers© meetings provide you with the support you need to lose weight and keep it off. With their integrated approach, you'll learn how to make healthy eating a lifestyle without cutting out the foods you enjoy. Join anytime and start attending meetings on campus!

The AU Farmers' Market takes place every Wednesday from 11:00am to 4:00pm on the Quad next to Bender Library (excludes summer semester). The market features fresh produce from Agora Farms, hearth-baked breads from Girardot's Crumbs, and micro-roasted coffee beans from FreshOffTheRoast.

All From the Farmer basket selections come with local produce carefully selected by our farm partners. Normally picked within 48 hours of delivery, all produce is packaged and delivered, at no additional cost, by From the Farmer between midnight and 7 am on your scheduled delivery day.

Join Fresh and Local CSA (community supported agriculture) and receive a weekly bagful of locally grown produce direct from an area farm.
Get a personalized eating plan or plan and evaluate your food and activity choices based on the Dietary Guidelines for Americans.