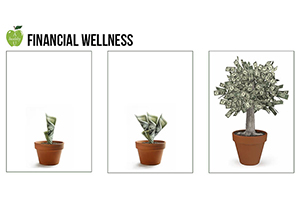 Whether you're concerned about having enough money in case of an emergency, carrying burdensome student loans, or planning for retirement, AhealthyU and the Office of Human Resources benefits team are providing you with tools to ease your financial stress and increase your financial wellness.
Fidelity and TIAA Campus Individual Retirement Planning
American University offers faculty and staff a great opportunity to save for retirement through the AU Retirement Plan. AU matches eligible employee contributions to the Regular Retirement plan on a 2-to-1 basis. Representatives from Fidelity and TIAA, our plan providers, come to AU twice a month to meet one-on-one with faculty and staff about their retirement savings plans. 
Registration
Appointments are available twice each month
Pre-registration is REQUIRED for these no-cost appointments.
To schedule an appointment with Fidelity call 1-800-642-7131 or go to GetGuidance.Fidelity.com.
To schedule an appointment with TIAA call 1-800-732-8353 or go to TIAA.org/schedulenow. 
All sessions are held at Human Resources, New Mexico Ave., Room 280T