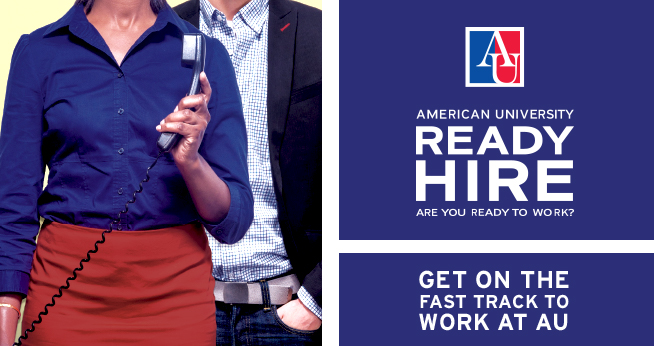 AU Ready Hire offers hiring manager access to pre-screened and qualified pool of candidates who are ready to fill a variety of full-time, part-time, and long-term temporary administrative openings throughout the university. The service speeds up and streamlines the hiring process for administrative openings throughout the university.
Advantages to using AU Ready Hire
Candidates have already undergone a phone screening process, an in-person interview process, and skills testing.
Candidates are available to start work as soon as you require them.
The hiring process for the ideal candidate is made more easily, quickly, and efficiently.
The transition and training between the incumbent and new employee is made easier.
The stresses of the recruiting process placed on hiring managers are alleviated significantly. 
There is no charge for this service.
We strongly encourage referrals from current AU Ready Hire candidates and hired AU Ready Hire employees.
How AU Ready Hire can work for your specific needs
AU Ready Hire is flexible enough to be involved as much or as little as you prefer in your candidate search and hiring process. If you need our help, here are some things we can offer: 
We'll initially organize on-site visits, so that we have the opportunity to learn about your office environment and any unique requirements for the open position.
We'll assist with scheduling interviews and, if you'd like, we can attend the interviews..
We can provide suggestions for interview questions that are specific to the open position and department.
We can conduct reference checks for final candidates.
We can provide additional testing for proofreading, spelling and grammar, data entry, and others, if required.
Give us a call and see how we can make your hiring process easier for you!
AU Ready Hire Team
202-885-3563
readyhire@american.edu
Administrative Assistant
Sr. Administrative Assistant
Staff Assistant
Customer Service Representative Assistant to Division Leaders
Long-term temporary assistants
Any other support-oriented positions