Student Life
Communication Dean Recruited for Dumbledore's Army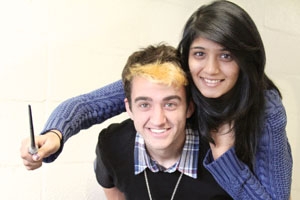 For those who aren't familiar with School of Communication Dean Jeff Rutenbeck, he has a secret to share: he's a big Harry Potter fan. Which is why he's so pleased to be the faculty advisor for the American University Dumbledore's Army (AUDA), an unofficial club that celebrates the world of Harry Potter. 
Only recently formed, the AUDA had been looking for the right advisor to help them gain approval from the university when their tea-leaf remains directed them to Dean Rutenbeck.
The owner of an Elder wand, Dean Rutenbeck learned of the AUDA from a fellow SOC faculty member and it was an instant fit. "How could you turn it down? This is exciting because I don't get to teach and interact with the students much anymore and I miss that," says Dean Rutenbeck. As 2012 came to a close, AUDA was ramping up for the following semester, and they're ready to "go big or go home".
Though AUDA won't be an official club until the spring of 2013, the members of the group are already active on Facebook, and are gearing up to host Human Wizarding Chess, be sorted into houses, hold Harry Potter Trivia nights, and possibly even organize a Yule Ball next year. "It's a great way to share a passion with students as well as learn about American University and how it works," says Rutenbeck.
His primary role so far has been to help the club navigate AU's student activities approval process to work out the final aspects of their plans to launch officially spring semester. "He has been so good about checking up on us to see how he can help," says AUDA's President Pooja Patel. The club's e-board appreciates how open-minded Rutenbeck is, and members are excited to have a faculty advisor who is as much a fan as they are.
For his part, Rutenbeck hopes to bring his appreciation and personal connection to Harry Potter to the club. "Harry Potter defined my reading relationship with my oldest daughter," he says.