What's with the Green Dot?
By Patrick Bradley
March 8, 2012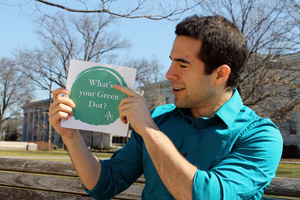 Green dots are popping up everywhere lately. They're on campus posters, they're all over Facebook and Twitter, and they're almost always paired with the phrase "What's your green dot?"

So what's it all about, then?

Daniel Rappaport, sexual assault prevention coordinator for the Wellness Center, is a driving force behind the nationwide movement's arrival at AU. He explains the campaign's goal to end power-based violence and promote bystander intervention.

"Red dots are those instances where you see that something might be wrong, whether it is or not, and something bothers you about that," he says. "A green dot is any word choice, behavior, conversation, that promotes or expresses a clear intolerance for any form of violence and promotes a culture of safety."

Senior Nate Bronstein is part of the AU chapter of Men Can Stop Rape, a group that advocates for an end to violence against women. He's happy to see the Green Dot movement on American's campus, which he believes is the perfect place for a culture of nonviolence to thrive.

"The cool thing about this campaign is it's really not supposed to be an awareness campaign so much as an action campaign," he says, "which I think speaks very well to the culture of AU because we're a culture not just having ideas but turning those ideas into action. This exemplifies that."

To promote action on campus, Rappaport and the Wellness Center are reaching out to various campus organizations – from Student Government and its Women's Initiative department to the university's Residence Hall Association – as well as students like Bronstein to get the word out on Green Dot.

The Wellness Center will also be giving talks, educating through social media, and leading Green Dot bystander intervention trainings for student groups – the next of which will take place on March 25th. The campus will see outreach increase in April to underscore Sexual Assault Awareness Month.

Even though most of the major promotion still lies ahead, Bronstein – who looks to further the campaign on a daily basis – has already noticed a change in students at AU.

"In one case, I did a green dot, and one other person came over to help out. I had never met this person in my life, and she mentioned she was trying to do a green dot," he says. "So, already it's gotten a lot of traction. Students are talking about it and beginning to follow through."

Rappaport is quick to point out that the Green Dot movement reaches far beyond AU's campus to universities and communities across the nation. He hopes that AU will do its part to help create a nation where green dots eventually outnumber the red. What the campus community does here will affect not only AU but also the greater national picture, and that is what Green Dot is all about.

"Creating a community of Green Dot makes everyone safer. To me, that's the most important part," he says. "When we're bystanders for someone we don't know, that person is someone else's loved one as well. It can save lives, honestly. It's really creating that culture, one green dot at a time. It's no one's job to do everything, but if everyone does something, the culture will change."
 
To "like" AU Green Dot on Facebook, click here.
Follow AU Green Dot on Twitter: @AUGreenDot.