2018 Diversity & Inclusion Award Staff Performance Awards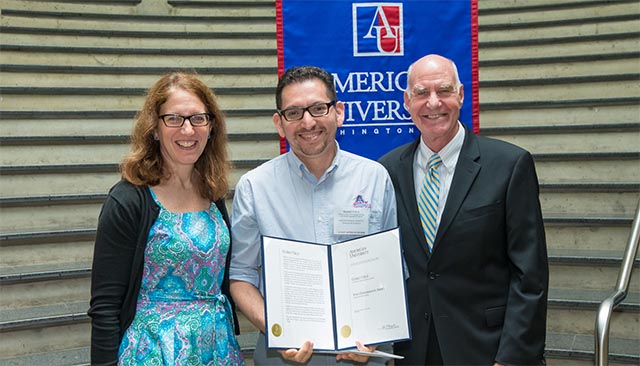 gorky cruz
Director, Center for Language Learning, World Languages and Cultures
College of Arts & Sciences
When Gorky Cruz took over as director of CAS' language lab, it was a sleepy, old fashioned language lab with a few computers, chairs, and an outdated collection of films. Over the past six years, he has transformed the language lab into the Center for Language Exploration Acquisition and Research (CLEAR), a culturally vibrant, exceptionally diverse hub of combined intellectual and social activity.
Gorky moved AU's language programs forward by working collaboratively to develop hybrid courses and build an online space that promotes cultural differences, invites discussion, questions stereotypes, and shares ideas so that students can learn from one another. The physical space provided by CLEAR creates a community that integrates students from all walks of life, regardless of disability, ethnic background, or social class.
Gorky's vision has shifted language tutoring to a model of language coaching, in which AU community members who speak languages other than English serve as coaches for all students enrolled in language courses at AU. CLEAR provides social activities such as the Mardi Gras Dance Along, and the Louvre Heist escape room, which are fun events that allow students to participate in a safe space without a fear of judgment. Every year, Gorky arranges a Thanksgiving dinner for students and staff who cannot afford to return home.
After these events, students have expressed their gratitude that CLEAR gave them experiences they would not have had or would not have been able to afford outside of AU. They looked forward to attending these events and enjoyed their time at CLEAR to mingle with others and explore different cultures freely.
Gorky was recognized by four separate nominations for his outstanding work.
We are pleased to award Gorky Cruz with the 2018 Diversity & Inclusion Award.