2018 Faculty & Staff Collaboration Award Staff Performance Awards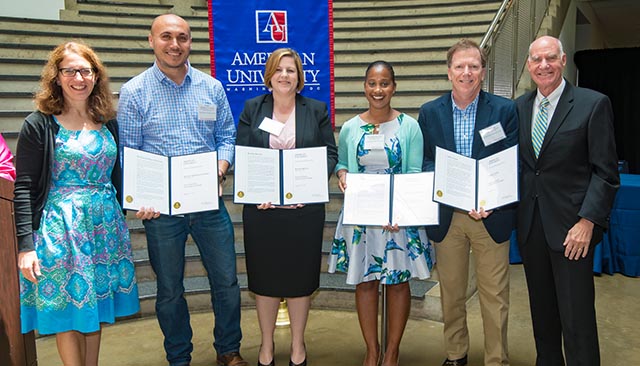 waseem aburakia-einhorn
Information Technology Services Manager
School of Public Affairs
rachel brittin
Associate Director, Communications and Content
School of Public Affairs
Gregg ivers
Professor, Department of Government
School of Public Affairs
bev-freda jackson
Adjunct Professorial Lecturer, Department of Justice, Law & Criminology
School of Public Affairs
The School of Public Affairs (SPA) Kerwin Hall lobby was broadcasting news 24-7 on its two TV screens. The staff and faculty team of Waseem Aburakia-Einhorn, Rachel Brittin, Gregg Ivers, and Bev-Freda Jackson combined their talents to utilize the monitors to entertain, engage and educate students with content that celebrated Black History Month and further the university's diversity and inclusive initiative.
Working on a tight timeline of roughly four business days, the team, with some help from students, researched, wrote, and designed nearly 80 slides featuring important figures from Black History Month. In addition to showing the slides in the Kerwin Hall lobby, the content appeared in the spotlight section of the SPA homepage, on posters hung throughout Kerwin Hall, and on SPA's Twitter, Facebook, and LinkedIn social media platforms. The content was also offered to other schools and buildings around campus.
Towards the end of the month, some of the quotes were turned into a quiz series, "Who Said It?" AU students who answered correctly first received Black History Month flash cards from Urban Intellectuals.
Students and other visitors to Kerwin Hall stopped, read multiple slides, took pictures of the slides, and selfies with the screens. Through observation and student feedback, SPA leadership heard that this effort meant a lot to many AU students.
We are pleased to award the 2018 Faculty & Staff Collaboration Award to the SPA Black History Month Promotion team.