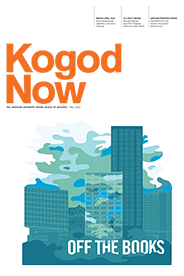 Kogod Now is a bi-annual, digital research magazine produced by the Kogod School of Business at American University. Its content examines trending business topics through current academic research.
Our new issue takes you where Research Meets Practice. You'll see how faculty expertise is being put to use to diagnose cancer earlier and easier; to determine how multinational corporations can better prepare for natural disasters;and to get the most out of a negotiation.
In this issue:

Subscribe for free at kogodnow.com and receive the next issue in your inbox.