Kogod graduates are shaping business around the world. Our alumni work in the public, private, and nonprofit sectors, putting their education to use in their daily professional lives.
Ten Ways to Stay Connected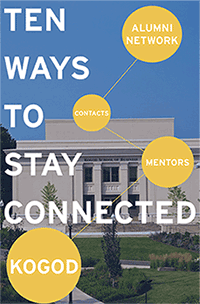 As an alumnus, you can get involved with the school by making connections and giving back. Engage with other alumni and help current students by actively participating in our community.
1. Identify yourself as a graduate of the Kogod School of Business in your professional bio, LinkedIn profile, etc.
2. Attend a Kogod networking event and bring a friend.
3. Partner with one of Kogod's undergraduate student clubs or graduate student clubs.
4. Reach out to your professors and/or respond to a student request.
5. Encourage your company to recruit Kogod students.
6. Bring your company to an Industry Day event on campus.
7. Share job announcements with the Kogod Center for Career Development.
8. Be a resource for student informational interviews.
9. Help plan an alumni initiative.
10. Participate in a mock interview on campus and/or volunteer at the annual Kogod Network event.