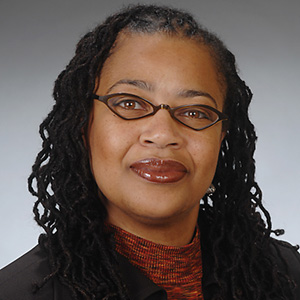 Sonya Grier

Professor Department of Marketing
Degrees

She received her Ph.D. in Marketing, with a minor in Social Psychology, from Northwestern University and also has an MBA from Northwestern University, with an emphasis on marketing, non-profit mgmt and international business.

Bio

Professor Grier is an interdisciplinary scholar with diverse expertise across private, government, and non-profit sectors. Her research examines marketplace topics related to race, with a focus on enhancing consumer well-being. She has published her research in leading marketing, psychology, public health and policy journals. Professor Grier has policy experience based on two years at the Federal Trade Commission, and also has practical industry experience in Market Research, Brand Management and Marketing consulting. She is a co-founder of the Race in the Marketplace (RIM) Research Network which works to collaboratively advance our understanding of the role of race across diverse market domains. She serves on the Editorial Board for the Advertising and Society Quarterly (ASQ), Journal of Consumer Affairs (JCA), and the Journal of Public Policy and Marketing (JPPM). She previously served as a member of the Board of Scientific Counselors for the Centers for Disease Control and Prevention (CDC) National Center for Health Marketing, and on the Advisory Boards for the African American Obesity Research Collaborative Network (AACORN), Transformative Consumer Research (TCR), Institute of Medicine Food forum and the Ph.D. Project.
Scholarly, Creative & Professional Activities
Selected Publications
Grier, S.A. and S.M. Poole (2020) Will Social Marketing Fight for Black Lives? An open letter to the field, Social Marketing Quarterly, 26 (4), 378-387
Grier, S.A. and S.M. Poole (2020) Reproducing Inequity: The Role of Race in the Business School Faculty Search, Journal of Marketing Management, online first,  p. 1-33; https://doi.org/10.1080/0267257X.2020.1800796
Crockett, D. and S.A. Grier (2020), "Race in the Marketplace and COVID-19," Journal of Public Policy & Marketing, Online first (May) DOI: 0743915620931448.
Grier, S.A. (2019) Marketing Inclusion:  A Social Justice Project for Diversity Education, Journal of Marketing Education, Online first, DOI: 11:0273475319878829.
Bradford, T. W. and S.A Grier, (2019) Can Food Restriction Lead to Healthier Eating? Qualitative Marketing Research Journal, 22:4, 557-569.
Grier, S.A., K. D. Thomas, and G. D. Johnson (2019), "Re-imagining the marketplace: addressing race in academic marketing research," Consumption Markets & Culture, 22:1, 99-100.
Grier, S. A. and T. Schaller (2019) Operating in a Constricted Space:  Policy Actor Perceptions of Targeting to Address U.S. Health Disparities, Journal of Public Policy and Marketing.
"Dogparks and Coffeeshops: Diversity Seeking in Changing Neighborhoods." Co-producer, writer and videographer for 40-minute research documentary film focused on gentrification in Washington DC.  https://vimeo.com/manage/106674926/general