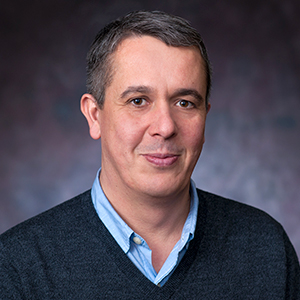 Catalin Stefanescu

Professorial Lecturer Department of Finance and Real Estate
Degrees

PhD in Business Administration, Indiana University.
M.S. in Economics (International Finance and Econometrics), University of North Carolina at Chapel Hill
M.A. in Economics, University of Tennessee
B.S. in Business Administration (Finance and Banking), Academy of Economic Studies, Bucharest

Bio

Catalin Stefanescu is a Professorial Lecturer in the Finance and Real Estate Department at the Kogod School of Business. He is the faculty director of the MS in Finance and MS in Real Estate programs.
He earned a M.S. in Economics from the University of North Carolina at Chapel Hill and a PhD in Business Economics and Finance from Indiana University. His primary research interests are in the areas of international corporate finance and capital markets, and more recently in the economics of blockchain and digital tokens. During his career, Catalin taught a variety of undergraduate and graduate courses such as Business Finance, International Financial Management, Corporate Finance, Derivatives and Survey of Blockchain. He is an advisor to the American Blockchain & Cryptocurrency Association and a review editor of Frontiers in Blockchain.
Spring 2023
CORE-105 Complex Problems Seminar: Responsible Financial Citizens

CORE-105 Complex Problems Seminar: Responsible Financial Citizens

FIN-671 Advanced Financial Management
Summer 2023
FIN-060 Foundations of Finance

FIN-365 Business Finance

FIN-464 Financial Markets&Institution
Fall 2023
CORE-105 Complex Problems Seminar: Responsible Financial Citizens

CORE-105 Complex Problems Seminar: Responsible Financial Citizens

FIN-365 Business Finance

FIN-365 Business Finance

FIN-394 Comm Service Learning Project: Business Finance

FIN-463 International Finance