At-a-glance
33 Credit Hours
Next Application Deadline: February 22
Classes Start: April 2021
Online Business Analytics Overview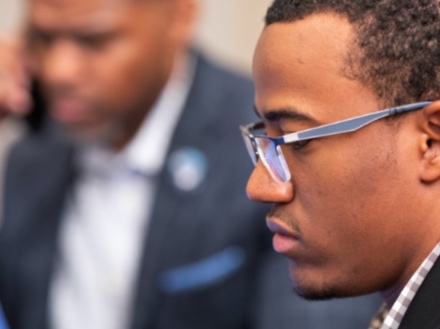 Use data insights to help your business make informed decisions and gain a competitive advantage.
The online master of science in analytics (MSAn) degree program at American University prepares students to become experts in data analysis. As a student in our analytics degree program online, you can learn how to use data to solve a variety of organizational and business challenges related to fiscal performance and operational effectiveness—and earn your degree in as few as 12 to 15 months.[2]
We bring the AU campus to you, no matter where you live. Everything you need to succeed and interact with the AU and Kogod communities is one click away through our digital campus. This includes live online classes and weekly self-paced course work—all designed and led by the same faculty who teach on campus.
Learn more about the MS in analytics online student experience.
Your business analytics degree will help you stand out from the competition. Through our program's flexible online format, you can continue working while you earn your degree and graduate ready to advance to the next stage of your career.
Explore career possibilities and find out where our graduates are working.
American University's online MS in analytics curriculum content matches our on-campus master of science in analytics program.
The online master's in analytics curriculum prepares students to make educated assessments by applying analytical techniques to real-world business practices. Unlike many data science master's degree programs, the applied business emphasis provides students with the opportunity to explore the business domain of their choice. The course work builds a foundation in business practices, and you can also customize your degree by choosing one of our predesigned focus areas or designing your own.
The 33-credit program can be completed on a full-time or part-time schedule, and includes core courses, elective courses, and hands-on practicum experiences.
You will have the option to pursue the Business Fundamentals Certificate as a part of your analytics degree for no additional cost or time to complete by selecting four elective courses that meet the certificate requirements. In this certificate program, you will gain a fundamental understanding of business and management in courses that focus on financial accounting, marketing, finance, international business, and more.
Explore our curriculum and business analytics course descriptions.
Focus Areas
Choose a course of study that best suits your professional experience and aspirations.
Select one of four predesigned focus areas or create your own self-designed path by combining electives from different areas. Focus areas include:
Business Foundations – Develop the core management skills to make better business decisions for your organization through courses such as Strategic Thinking and Managerial Economics & Corporate Strategy.
Consulting –Prepare for success in this field and appeal to potential employers and clients through courses such as Business Law & Ethics and Strategic Thinking for Decisions.
Cybersecurity – Focus on strategies to prepare for, prevent, and respond to cybersecurity attacks through courses such as Cybersecurity Risk Management and Cybersecurity Governance.
Financial Analytics – Develop both analytic and financial expertise through courses such as Financial Statement Analysis and Forensic Accounting: Fraud Examination & Litigation Support.
41 percent Minority students
6 years average work experience

Apply classroom learnings to real-world challenges and build your network during practicum experiences.
The curriculum includes two hands-on practicums (1.5 credits each) that allow students to solve business challenges with real organizations. Students use descriptive, predictive, and prescriptive analytics tools to find solutions to problems these organizations face. In addition to these problem-solving projects, students attend talks from business leaders and make invaluable connections within the nation's capital.
American University's Kogod School of Business seeks candidates who strive to become global business leaders.
To apply to earn your master's in business analytics online at AU, you must have a bachelor's degree from an accredited college or university. GMAT and GRE scores are not required. The program has four start dates throughout the year: January, April, July, and October. Applications are accepted and admissions decisions are made on a rolling basis.
To complete your application, you must submit the following:
Completed online application
Application fee
Personal statement
Resume
Two letters of recommendation
Official transcripts
GRE/GMAT scores (optional)
Test of English as a Foreign Language (for international applicants)
Military Education Benefits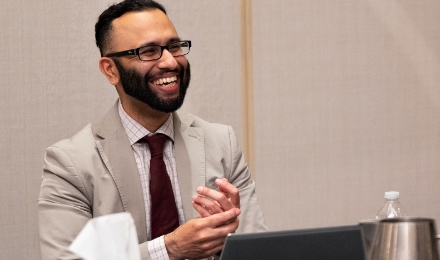 American University is a proud participant in programs that provide benefits to military members and veterans.
American University's Kogod School of Business is dedicated to supporting military service members, veterans, and their families. Our online programs were ranked the No. 7 online business programs for veterans by U.S. News & World Report in 2021. [5] Military-connected students are able to apply their VA education benefits when they enroll in Analytics@American, including the Post-9/11 GI Bill, the Montgomery GI Bill (MGIB), Tuition Assistance (TA), and the Yellow Ribbon Program for those who qualify.
[1] Best Online Master's in Business Programs for Veterans (Excluding MBA) (2021). U.S. News & World Report. Retrieved January 2021 from https://www.usnews.com/education/online-education/business/veteran-rankings
As an online business analytics student, you can earn your degree no matter where you live or are stationed—and translate your military experience and leadership skills into new career possibilities across a variety of industries and organizations.
Applicants who have served in any branch of the US military on active duty within the past three years are eligible to waive their application fee.
Use data to advance your career with a master of science in analytics from AU.
Join our master's in analytics online to gain expertise in data analysis and learn to apply new insights in your industry.
[1] Best Online Master's in Business Programs (2021). U.S. News & World Report. Retrieved January 2021 from https://www.usnews.com/education/online-education/business/rankings
[2] Program time to completion depends on when you start the program.
[3] Data represents all students currently enrolled in the program as of July 6, 2020.
[4] This information includes: Hispanic/Latino, Black or African American, non-Hispanic/Latino, and American Indian or Alaska Native students, as well as two or more races, when one or more are from the preceding racial and ethnic categories.
[5] Best Online Master's in Business Programs for Veterans (Excluding MBA) (2021). U.S. News & World Report. Retrieved January 2021 from https://www.usnews.com/education/online-education/business/veteran-rankings