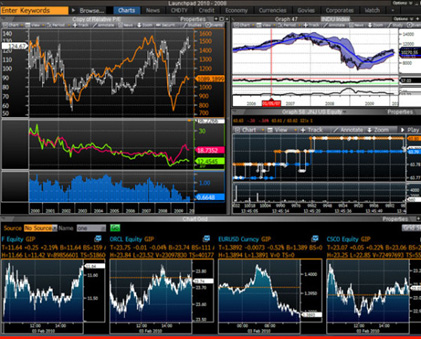 Bloomberg is one of the premier financial databases that provides extensive coverage of the global financial markets. The ability to access data quickly and to model the data in order to make crucial decisions is vital to all business professionals. Familiarity with Bloomberg terminals will give you a competitive advantage in gaining an elite internship or a job.
Bloomberg Jump Start
Goal: To provide you with knowledge, practical skills and experience in Bloomberg products. This class covers database structure and commands with a focus on real-time and historic pricing, fundamental data, customized analytics etc. 
Bloomberg Log On/Log Off
Most Helpful Keys
Data Content/Coverage
News Functions
Equity Functions
Debt Functions
Currency Functions
Bloomberg Equity Valuation
Goal: To help you use Bloomberg power to access information and perform analysis on stocks. This seminar also focuses on advanced equity analytical functions that estimate, from past data, the projected price movement of a stock relative to that of an index or another stock, the intrinsic value of a stock, the risk of bankruptcy, also the implications of changes in capital structure.
Bloomberg Log On/Log Off
Most Helpful Keys
Examine company fillings and "red-line" documents
Analyze benchmark statistics and trace company and peer performance
Perform a financial analysis on a company
Use earnings estimates for a company in one place so that you can quickly gauge market expectations
Analyze an issuer's financial operations
Research equity analyst recommendations
Bloomberg Foreign Exchange Market Analytics
Goal: To introduce you to the FX price discovery and functions related to Spot, FWD, Cross rates and volatilities as well as to ways how to rank currencies to find cross currency investment opportunities.
Bloomberg Log On/Log Off
Most Helpful Keys
Data Content/Coverage
FOREX Market Characteristics
FX Cross Rates, SPOT, FWD, BID-ASK Spread
FX Forecasts
Libor Historical Data
Covered Interest Rate Arbitrage