Business
Study Shows DC, Virginia Company Boards Lack Women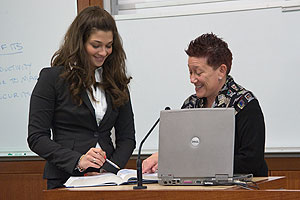 Underrepresentation of women on corporate boards is a common theme across the globe, but statistics in Washington, DC and Virginia are particularly grim, according to a newly released study commissioned by Women in Technology (WIT) and conducted by two Kogod graduate students.
"In terms of gender diversity, [local] firms appear to lag companies nationwide," said Julie Bloecher, MBA '10, one of the student researchers. "This potentially decreases their competitive advantage."
WIT – an organization with nearly 1,000 members – aims to advance women in technology from the classroom to the boardroom through advocacy, leadership development, networking, mentoring, and technology education.
According to the study, women hold 7.7 percent of board positions at the 160 Virginia-based public companies, or 101 of 1,318 total board seats. For Washington D.C.-based companies, women fair only slightly better, holding 12.8 percent, or 14 of the 109 seats.
More than half of the 172 publicly traded companies in Washington, D.C. and Virginia have zero women on their corporate boards. And only six of the companies studied have three or more women in the boardroom, or a "critical mass." Maryland companies were not included in the study.
Susanne Barakat, MBA/MA '11, and Bloecher conducted the research under the guidance of Executive-in-Residence Jill Klein. Klein has worked in IT and banking management for over 25 years.
"Diversity defines the workplace of the 21st century," Klein said. "Women, a vital element in this diverse workplace, represent one of the largest, untapped corporate resources at all levels, including on the Board of Directors."
Additional Key Findings
In Washington DC (12 public companies)
Three (25%) companies have zero women on their corporate boards of directors.

One (8.33%) company has three (3) women on its corporate board of directors. That company is Pepco Holdings, Inc.

Women fill 20% or more of the Board seats in two companies, which is 14.29% of all DC companies.
In Virginia (160 public companies)
One company (0.63%) has five (5) women on its corporate Board of Directors. That company is CNB Bancorp.

Women fill 20% or more of the Board seats in 12 companies, which is 7.5% of all VA companies.

Eighty-six (53.75%) companies have zero women on their corporate Boards of directors.
Women's Influence
Research has shown that the presence of women on corporate boards can have a positive affect on the companies they represent, in the form of increased diversity of opinions and perspectives; positive impact on decision-making and leadership styles; 'better' boardroom behavior; and an improvement of the company's image with stakeholder groups.
Evidence also suggests that the boardroom dynamic is more open and collaborative and difficult issues or problems are less likely to be ignored with a "critical mass" of three or more women.
And while women have reached 38 percent of all new appointments to corporate boards, they are still severely underrepresented in comparison to the total labor market. Nationally, women hold only 15.2 percent of Fortune 500 board seats, even though they comprise 46.8 percent (and growing) of the total US labor force.
Additionally, some data suggest that the presence of women on boards is still overstated – as many of the same women hold seats on multiple companies' boards.
"I'm excited the research is getting pushed out into the public's eye," said Barakat. "I really hope local corporations take a long, hard look at the facts and research we compiled [and realize] that having a gender and diversity-balanced boardroom creates great benefits."
Looking Ahead
Klein said she hopes the research will help expand women's roles across all company organizational levels; WIT intends to update the information on an annual basis to track the progress of women from year to year.
In response to the study's findings, WIT is also launching The Leadership Foundry, a training and mentoring program designed for senior-level female executives who are interested in joining a board of directors.