Achievements
Bloomberg BusinessWeek Ranks Kogod
No. 63 Undergraduate Program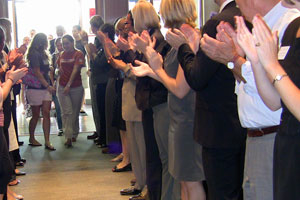 Bloomberg BusinessWeek's sixth annual "Best Undergraduate B-Schools" ranking placed Kogod at No. 37 among private university business programs and No. 63 overall, marking the second time the college has been recognized as one of the nation's best business schools. In total, 113 internationally accredited business programs were ranked.
Highlights of Kogod's 2011 ranking included an "A+" grade for teaching quality; a very competitive median starting salary for graduates ($50,000); and a strong student response rate to BusinessWeek's survey, a key methodology of the ranking.
The specialty rankings by topic put Kogod's program as No. 8 for International Business and in the top 25 for Sustainability, Ethics, and Marketing.

"We're pleased to be recognized as a top undergraduate business program," said Lawrence P. Ward, associate dean for academic programs. "The ranking indicates that our undergraduates are enjoying a rewarding academic experience at Kogod—and reaffirms that our exceptional faculty and staff provide them with a top-notch education." 
"I'm delighted that Kogod once again received very high rankings in teaching quality and student satisfaction," said Jesse Boeding, assistant dean of undergraduate programs. "It's a confirmation that the distinction of our program is resonating with students, recruiters and other stakeholders." 
In 2009, Kogod burst onto BusinessWeek's ranking at No. 28 overall, driven by a 'top 10' measure for student feedback and high marks for teaching quality and job placement. Last year the school was not ranked due to low recruiter survey response.  
BusinessWeek bases its ranking on nine measures, including student and recruiter surveys from the last three years and median starting salaries for 2010 graduates. An MBA Feeder School measure is based on the number of graduates enrolled in top MBA programs; an Academic Quality rating is derived from SAT/ACT scores; and other measures include the student/faculty ratio, average class size, percentage of students with internships, and the number of hours students devote to class work.  
BusinessWeek's "Best Undergraduate B-Schools" ranking is available as an interactive graphic on businessweek.com.