International
Professor Explores Cross-Cultural Management in Japan and Beyond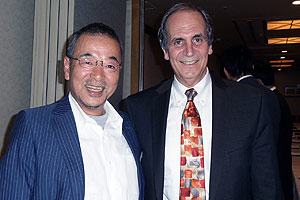 Teaching in Japan. Researching in Thailand. Lecturing in Jordan. Giving a seminar in Macedonia.
Just a few things Outstanding Professor of Undergraduate Programs Richard Linowes did last year while on sabbatical.
Linowes conducted research for his "Managing Cultural Interfaces in Global Organizations" project, studying American and Japanese firms operating around the world to learn best practices for cross-cultural management.
Linowes spent last summer as Kogod's first-ever visiting professor at Ritsumeikan University in Kyoto, Japan, teaching courses on strategic leadership and global entrepreneurship.
Japan and Beyond

Over three separate two-week trips in the fall, he interviewed senior executives from overseas subsidiaries of top American and Japanese companies in Europe, Southeast Asia and the Middle East for his research.
He also met with a wide variety of corporate executives in each country including: 
Toyota in Japan and Thailand

Citibank in Austria, Vietnam, Dubai, and Jordan

Goldman Sachs in the Middle East and North Africa

Coca-Cola in Macedonia

Panasonic and Sharp in Japan

Nike in Vietnam

Bank of America in Thailand
The time abroad also allowed Linowes to reconnect with several of his former students, and this time, he learned from them - how they accommodate their firms to different cultures.
Linowes made time for excursions while traveling, too - but not always in typical tourist style. 
"I went on an exhilarating desert sand dune ride near Dubai in a special Toyota vehicle, manufactured in the Toyota Thailand factory I visited the month before," he said.
In Skopje, Macedonia, he gave an executive seminar on quality management at the M6 Educational Centre; the attendees were leaders of businesses that constituted 40 percent of Macedonia's GDP. Linowes's former student Dimitar Osmali, BSBA '00/MBA '03, now executive director of the centre, arranged the seminar.
In Amman, Jordan, he gave a public presentation at City Hall on quality management that was arranged by his former student - and teaching assistant - Basma Amari, BSBA '02/MBA '04. Amari now advises a not-for-profit organization that is spearheading organizational improvements in the nation's public institutions.
Linowes's time abroad wasn't without incident, however. On a family visit, his son got lost in the Tokyo subway system. "But due to the extraordinary organization and social network of Japanese society, we found him in 20 minutes," explained the relieved parent.

This semester, Linowes is back in the classroom at Kogod, teaching courses on global leadership and global strategy.
About Richard Linowes
Linowes teaches strategy, global leadership, entrepreneurship, and organizational change in Kogod's Management Department. Linowes brings his experience as an executive with Goldman Sachs, where he helped plan the firm's international expansion.
Linowes has studied the adjustment of American and Japanese multinationals to countries around the world. With backing from the US Agency for International Development (USAID), he produced a prolific collection of case studies that profile businesses in emerging markets. He has also previously trained Foreign Service officers to manage across cultures and was a Fulbright Scholar for pedagogical innovation.