Education
Business Students Learn Team Building at Adventure Course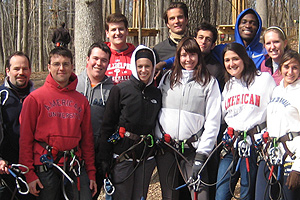 Associate Professor Mark Clark's "Leading High Performance Teams" class takes the concept of experiential learning to new heights.
Students in his MGMT-409 course gain an understanding of team leadership via traditional methods—readings, projects, exams—and from multiple perspectives, including the treetop view of an exhilarating ropes course.
Perhaps the most unique class assignment, the challenge course takes place outside the walls of Kogod during a Saturday or Sunday outing. Students engage in trust-building and problem-solving exercises, then climb rope ladders, swing like Tarzan, and zip down lines on the adventure course.
Sounds like a plum assignment, no?
It is, Clark admits, but it's not all fun and games. Clark became a certified team initiatives and high ropes instructor 20 years ago and has facilitated hundreds of groups, including corporate teams, campers, even juvenile delinquents.
He has taken both undergraduate and graduate Kogod students to team challenge courses for about the past seven years. "My favorite part is actually watching the students develop their confidence, relationships, and efficacy in problem solving during the course," Clark said.
Students are asked to consider and evaluate the experience from multiple points of view:
As individual participants learning about themselves and their group's norms, strengths, and limitations;
As "managers" assessing the team's needs, planning initiatives to address issues, and weighing costs, benefits, and follow up implementation;
And as facilitators or coaches, determining the best methods for improving a group's dynamics and leading the process
"The key is that the planning process and choices must mindfully reflect the needs of the team, manager, and organization," Clark said. "Many businesses waste money because they don't invest enough planning to get the benefits out of experiences such as team initiatives and rope courses.
"Even when the main managerial objective is for their work team to have some fun, failing to structure the exercise appropriately can actually break down the team more than it helps."
Clark's research interests dovetail with the course material: his work examines team management, including the effects of diversity and knowledge processing, and strategic human resources. He's studied a variety of teams, including cancer survivor support groups; sailing teams in the prestigious America's Cup tournament; surgical teams in medicine; geographically dispersed teams, and others.