Alumni
MBA Alumnus Goes from Start-up to Success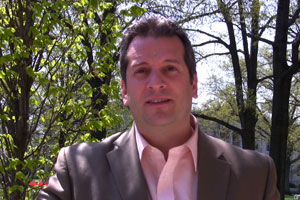 Interactive marketing entrepreneur and EyeTraffic Media founder George Assimakopoulos, MBA '95, describes his career as a series of humps.
There was the hump while at Kogod when the Internet was just taking off and marketing's traditional push strategy was changing. 
(Push marketing is when information or products are pushed to the buyer—like in TV commercials—as opposed to pull marketing, when the buyer actively seeks out information or products, like searching for "vacuums" on Google.)
"The Internet was completely different," Assimakopoulos said. "People were being empowered to seek information at the moment when they needed it. I wanted to be a pioneer during those opportunities."
There was the hump when he and a group of friends started a business after graduating from Kogod in 1995. Within 18 months, it closed.
"We had no business sense despite our vision," Assimakopoulos said. "We just needed a bit more experience."
Then there was the hump when he worked for Proxicom, an interactive Web development agency, in the late '90s. The small company grew rapidly until 2001, when the Internet industry regressed and entered the "dot-bomb" era. 
Proxicom was acquired in 2003, and Assimakopoulos's position was terminated. The company that acquired Proxicom said: "We just don't see a future in online marketing."
But online marketing was his passion.
The birth of EyeTraffic Media, an interactive marketing consulting firm that shows agencies how to leverage the Internet, in 2005 got him over his last hump. As EyeTraffic grew, Assimakopoulos progressed through a series of more personal challenges related to his career: how to feed his family while running a start-up business, how to pay employees when the company needed new hires, how to pay rent when the company grew to require an office.
"All of the sudden, you realize you've started a company from a start-up to a success," Assimakopoulos said.
In March 2011, EyeTraffic was acquired by Penton Media, a mass media corporation that publishes magazines, websites, and trade show publications across 17 different markets, from agriculture to electronics to restaurants.
"They could position me in front of 17 different markets at the moment those markets are looking for information on Internet marketing," Assimakopoulos said.
He is also a member of the Kogod Advisory Council. In this role, Assimakopoulos works with the dean to provide marketing strategy for the school and its stakeholders, helping to shape the Kogod experience for future students.
Even years after graduation, Assimakopoulos always keeps in mind the lessons he learned from Kogod professors, such as Information Technology Professor Erran Carmel. Assimakopoulos said Carmel used to show his class a list of entrepreneurs' names and ask the students to say who the people were:
Steve Case. Michael Dell. Larry Page. Sergey Brin. 
AOL. Dell. Google. Google.
Kogod classes show there's always a way to try something new, and failing is OK as long as you learn from it, Assimakopoulos said. Most successful business owners have failed numerous times before finding success.
"Professor Carmel was trying to tell you, 'Don't be afraid to try things that have never been tried before," Assimakopoulos said. "I always tell my clients, 'What would you attempt to do if you knew there was no way to fail?'"
What would Assimakopoulos do?
"I am an entrepreneur by heart," he said. "I want to grow a business from zero to its first million. But, I still have a passion in pioneering on the Internet."