Alumni
Local Restaurants Showcase Alumna's Photographs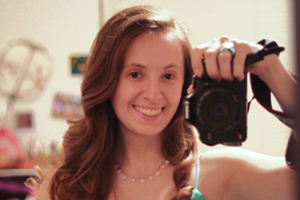 When Rachel Lincoln first launched Dawn Lincoln Photography, even some of her closet friends told her she couldn't do it.
"Some people even laughed and thought my business venture was 'cute,'" said Lincoln, BLC '11.
Lincoln graduated in May not only with a Bachelor's in Business, Language, and Culture Studies (BLC) degree with a concentration in French, but also having photographed President Barack Obama with Maryland Governor Martin O'Malley and the DC premier of Disney Nature's Oceans, as well as exhibiting at local restaurants Proof in Penn Quarter and FunXion near Metro Center.
Lincoln's photography series "Unexpected Transformations" temporarily replaced the Smithsonian photos that grace Proof's plasma screens and was featured at FunXion's "Argentine Tango + Photo Show + Organic Food & Drink" event April 30.
The series looks at life from a different perspective: a knife and blueberry turned barracuda, strawberries turned car accident victim and spectators, a cloudy landscape turned moody painting.
"I had dinner at Proof several times during the show, and it thrilled me to hear people around me comment on my photos," Lincoln said. "I was really happy with the way the show turned out, and honored that my photos were chosen to temporarily replace those from the Smithsonian."
But Lincoln didn't always intend to become a professional photographer. She had a few travel photos published in high school and had always carried a camera with her. Then, while interning with Roland Media Distribution's Arvin Vohra on a Spanish language software project, Vohra happened to see one of Lincoln's photos on her computer desktop.
"He told me he was stunned to hear that I had taken it, and he encouraged me to set up a website," Lincoln said. Vohra worked with Proof and FunXion to set up the photo exhibits.
She has since put her business degree to use launching Dawn Lincoln Photography and Lincoln Languages, a French, Spanish, and Arabic translation and interpretation business. (Yes, she speaks all three languages.)
"I am working on using my visual artistic ability, my language skills, and my love for travel and meeting new people to create an awesome career," Lincoln said.
The best piece of advice she learned during her time at Kogod?
"You have to do what you feel is right from the heart," Lincoln said, "even if it's far from what you originally planned."