Government & Politics
Part-time MBA Goes Full-time With Obama Campaign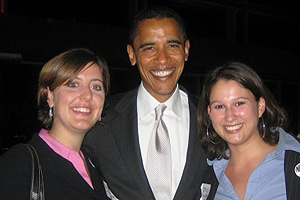 On April 6, Liz Wing, MBA '13, left behind her apartment, job, and friends and travel to Des Moines, Iowa, where she lived with someone she had never met.
She was not too worried about it. "As a native Ohioan, I like to think us Midwesterners get along really well," she said.
The part-time MBA student became the Iowa Operation Vote Director for Organizing for America, a community organizing project of the Democratic National Committee founded after the 2009 presidential inauguration. Wing will work tirelessly through November 6 to mobilize female and youth voters in Iowa to re-elect President Barack Obama.
And to start off, she lived with an Obama supporter who has volunteered to house a like-minded community organizer. That is, until she flew back to take her final exams.
No Looking Back
It's a decision Wing has made once before, when she spent three months in Iowa City as a field organizer for Hillary Clinton's campaign for president, before traveling to seven more states in the next six months.

"Iowa has a special place in my heart," she said. "That time was the best of my life – I learned a lot about myself, about people, about campaign lifestyle."
"A campaign is not a job, it's a lifestyle."
A self-described "career feminist," Wing served at the National Organization for Women in Washington, D.C. after graduating from Ohio University, where a women's studies class caught her attention. "This is what I want to do with my life," she thought.
After two years at NOW, she made the jump to Iowa; after the Clinton campaign concluded, she moved back to D.C. to become executive director of the No Limits Foundation, a nonprofit, nonpartisan organization inspired by Secretary Clinton that advocates for foreign policy, health care reform, women's issues and other progressive priorities.
Next Stop: MBA
At No Limits, Wing managed a near-limitless list of responsibilities, including communications, memberships, policy research, marketing, and the budget.
"It dawned on me that an MBA is really important in the nonprofit field. Here I am with these responsibilities, using technical tools that I'm not familiar with," Wing explained. "Passion doesn't replace technical skills...they will give you a competitive edge in the market."
That's what brought her to Kogod in Fall 2010, to start her MBA degree.
"I realized that if I want a women's rights nonprofit to make a big change, I need to make it the most efficient and effective it can be."
A lot of the tools that the MBA program teaches—such as statistics, data analysis, strategic thinking—also resonate with campaigns.
American University's reputation for political activism and advocacy for women's issues made Kogod a natural choice. Her close friends in the program and an extremely positive experience in the Peace Through Commerce practicum—where she helped build a business model for a water project in Tunisia—made the decision to move to Iowa even harder. 
But after working with her academic advisor, Brian McEntee, to map out her return in spring 2013, Wing felt reassured.
"I will miss my friends, especially in the MBA program. I love being with a group of people you can really form a bond with," she said. "I was really looking forward to graduating with them...but this just worked out beautifully."
And the new job boasts a lot of responsibility; she is a key part of the senior staff in Iowa, managing two staff members and working with constituency experts in the Chicago headquarters. Iowa has been identified as one of the key battleground states for the reelection campaign, especially due to the Republican candidates' extended stay before the caucuses.
"In 2008, Obama really energized the base. Now we have to mobilize people all over again," she said.
And for a former Hillary Clinton staffer, the president's policy views have turned her head. "Obama really won me over with his work on women's issues. And at the end of the day, we're all Democrats."
"That's why I'm packing my car up again—and moving to Iowa again."
Originally posted April 2012
Updated September 2012