Achievements
Taxation Professor Donald Williamson Recognized for Outstanding Teaching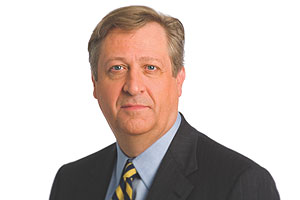 Professor Donald Williamson loves when students dispute his teaching. "If you want to learn something, teach it," he said. "When students challenge me on things, or inform me that it's not the way they do it in their office—that's my favorite part."
He's had plenty of time to think about the highlights; Williamson has spent 28 years at American University. And this year, he was honored with the University's Faculty Award for Outstanding Teaching.
"I consider it the pinnacle of my academic career," said Williamson, who also serves as executive director of the Kogod Tax Center.
In his 25 years directing the MS in Taxation degree program, Williamson estimates he's taught a dozen different courses—but always with graduate students. His colleagues have commented that he runs his classes similar to a PhD seminar: with a back-and-forth exchange of ideas. 
The MST program was recently ranked among the top 10 percent in the country by TaxTalent, the largest online network for tax professionals.
"The people on the other side of the table—the students—have other skills and abilities from my own," he said. "Particularly with tax, it's so dynamic; every year, something changes. We learn from each other."
Andrew Zank, MST '12, agreed. 
"The best part about Don's classes is you can tell that he loves what he does and so he creates a classroom environment where even learning about new IRS forms and regulations can be interesting and exciting."
"In a field that can sometimes be fairly dry, it's refreshing to have a professor like him."
The MST program is a mix of younger and more senior, returning graduate students. Williamson says each type of student brings a valuable piece to the classroom. The younger students have strong study skills and are comfortable in an academic setting; the older students bring impressive resumes—some have completed million-dollar deals—but are often anxious about the prospect of exams.
He's happy to talk them through, and knows he'll eventually see each one walk across the stage at commencement—sometimes with their kids looking on.
But Williamson, who maintains a tax practice in addition to his academic duties, knows that the degree isn't the only important part. "What we do at Kogod is about providing training and instilling talent and desire to excel. That's what has made this so rewarding over the years."
Williamson says he's not sure about another 28, but he hopes to do it for another 10.
"I've had a lot of fun," he said.