Achievements
D.C. Economic Development Project Employs Kogod MBAs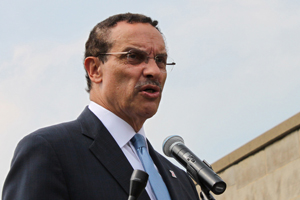 Mayor Vincent Gray has a vision for reshaping D.C.'s economy and two Kogod students will help make it a reality.
Andrew Olson and Erin Monahan, both MBA '13, are contributing to the advancement of Gray's Five-Year Economic Development Strategy for the District, serving as mayoral fellows on the project's Strategy Advisory Group.
"I feel rather honored to be a part of this," Olson said. "It promises to be a challenging and exciting summer where I will have the opportunity to give something back to the community."
A collaborative endeavor between the public and private sector, along with the academic community, the hope is to catalyze business growth and job creation inside the beltway.
Olson and Monahan will collect and analyze data from business leaders in seven industry sectors that will be used in planning the economic development strategy.
The sectors are:  
Federal Government and Federal Government Contractors

Higher Education and Health Care

Hospitality

Professional Services

Real Estate and Construction

Retail

Technology

Public Sector
"We'll provide quantitative evidence to back a set of recommendations to the city that will comprise the main deliverable of the project," Olson said.
The three deliverables are an economic-impact model to provide a framework, a public-sector strategy for regulatory reforms, incentives and real estate investments, and private-sector commitments.
Graduate students from other D.C.-area business schools, including Georgetown, Howard, and The George Washington Universities, are also contributing to the project. An advisory group, which includes elected officials, agency directors, university presidents, and top employers will formulate the final strategy.
"The business students who will be involved in this work are some of the sharpest in the area," Mayor Gray said in a release. "Together they will help us survey our industry leaders and identify opportunities."
The final report, which will provide a roadmap for the District's economic development, will be released in September.